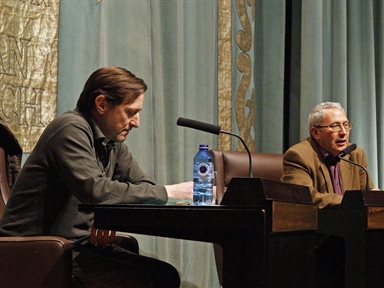 (and II) "Ignacio Martínez de Pisón in dialogue with José María Pozuelo Yvancos"
URL: http://www.march.es/conferencias/anteriores/voz.aspx?p1=22817&l=2
Date: 1/03/2012
Duration: 78
He has penned more than a dozen works, highlighted by his book of short stories El fin de los buenos tiempos and the novels La ternura del dragón, Carreteras secundarias and Dientes de leche, and also the essay Enterrar a los muertos. His most recent works are Partes de Guerra, the anthology of short stories Aeropuerto de Funchal and the novel El día de mañana. Also a film scriptwriter, Martínez de Pisón will give a talk on 28 February, and on 1 March will converse with literary critic José María Pozuelo Yvancos.