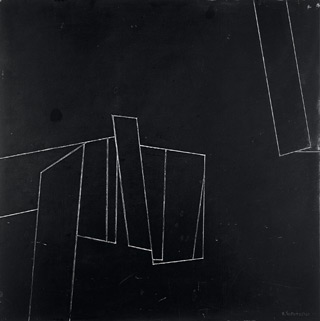 Progression, 1959
Dating from 1959, Progresión is a landmark in Basterretxea's artistic career as it was created the year he gave up painting to dedicate himself fully to sculpture, a genre that brought him deserved success.
The work is created on a square piece of slate that is still a plane, like the canvas of traditional pictures. Upon the slate, the artist has drawn some figures. However, the stony nature of the slate, its opaqueness, color and weight suggest sculpture. The figures do so as well, as they have not been painted nor, strictly speaking, drawn, but are engraved, scored into the black slate by sculptor's tools.
These figures reveal something important about the period in which they were made: the need to create abstract art that did not originate from surrealism or expressionism, the sources for non-objectivism. In the 1950s, both in Equipo 57 and in Gaur—both artistic groups co-founded by Basterretxea—some sculptors, including Jorge Oteiz and Eduardo Chillida, re-embraced some constructivist traits that had been obscured by the success of abstract expressionism.
The figures in this piece recover the geometric origin of constructivism: drawn with straight lines, they form trapezoidal figures that group together according to interrupted rhythms. But, in contrast with the most normative and purist currents, these geometric surfaces appear disquiet and are slightly shifted from the center, showing their irregularity. They occupy the edge of the work and therefore highlight the empty space in the upper part, unyielding in its opposition to hierarchical order.
Javier Maderuelo, en Catalog Museo de Arte Abstracto Español, Cuenca, Fundación Juan March, Madrid, 2016