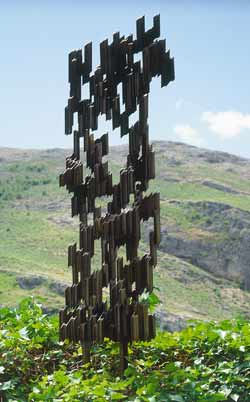 Homage to Vasarely II, 1965
Homenaje a Vasarely II, which stands beside the gorge in one of the little gardens that surround the museum, was constructed by soldering together small "found" industrial girders with abundant gaps between them. The vertical and modular shape of this practically flat monument speaks to us of a modern world that seems remote in this rocky, peaceful environment. The piece is somewhat reminiscent of a tapestry and, like so many twentieth-century sculptures, it embodies emptiness.
The son of a sculptor who afforded him a solid apprenticeship, Gabino studied at the School of Fine Arts in his native Valencia. In the 1950s he travelled through Europe, especially Italy, where he connected with Carlo Carrà and Marino Marini, as well as with Lucio Fontana and the avant-garde approach.
A friend and admirer of Eusebio Sempere, Vasarely was amongst the most celebrated Parisian op artists. In the 1950s and 1960s, he elaborated a new version of the theories of the Bauhaus, a group with which he had coincided in his native Hungary. Here, Gabino chooses him as a symbol of what he considers most desirable in art: the shift of artistic production towards the area of industry, which is symbolized in this work by the choice of the base material and the use of the soldering technique, a technique that was pioneered by the Spanish sculptor Julio González.
Juan Manuel Bonet, en Catalog Museo de Arte Abstracto Español, Cuenca, Fundación Juan March, Madrid, 2016