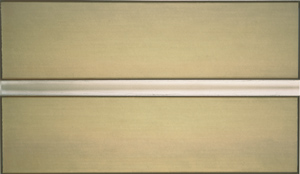 Horitzontals, 1978
When Hernández Pijuan produced this work in 1978, much of the painting being produced by younger artists in Spain was moving in the same direction. It was then that Hernández Pijuan, who had practiced a systematic and rigorous abstraction for many years, began to be appreciated by many of Barcelona's young artists—in a similar manner to what occurred in Madrid with José Guerrero.
Hernández Pijuan studied at Barcelona's School of Fine Arts, where he was later one of its most dynamic teachers, as well as one of the most receptive to new trends. He was a member of the ephemeral Sílex group, founded in 1956, and in 1957 he discovered abstract expressionism during a visit to Paris—before the end of the decade, he was fully immersed in this movement. However, after this abstract expressionist stage, Hernández Pijuan "cooled" his stance considerably. He began to look at painting in more measured terms and made use of geometry, incorporating graphing paper—that instrument of measurement par excellence—into his still lifes of the 1960s and his landscapes of the 1970s.
When he painted Horitzontals, Hernández Pijuan was focused on the concept of landscape—in his own words, he was searching for "moments of color to define a landscape." In 1976, his portfolio of lithographs Proyectos para un paisaje [Projects for a Landscape] was published by Grupo Quince. In 1979 the demanding Cabinet des Estampes at Geneva's Musée d'art et d'histoire deemed his prints worthy of an anthology.
Juan Manuel Bonet, en Catalog Museo de Arte Abstracto Español, Cuenca, Fundación Juan March, Madrid, 2016