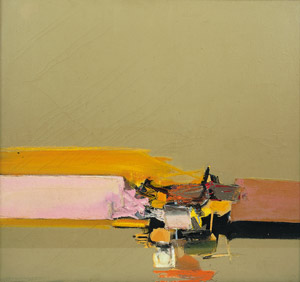 Number 396, 1964
If any member of the Spanish generation of 1950 can strictly be described as a painter of "abstract landscapes" that is Lorenzo. Número 396 hangs in the museum's "black hall," attracting the visitor's gaze like a magnet. It is a fine example of this delicate painter's capacity to create the equivalent of a landscape using purely pictorial means.
Lorenzo studied at Madrid's School of Fine Arts, where he was a disciple of Daniel Vázquez Díaz during the Spanish Civil War years, and soon became conversant with the modernizing pictorial tendencies. In the biographical note to the catalog of his 1965 exhibition at Madrid's Dirección General de Bellas Artes, he states, "My abstract art experience began [in 1956], influenced by contacts with American painters, and also by some Spanish painters, Gerardo Rueda in particular." Incidentally, em lang="es">Número 396 was amongst the highlights of this exhibition.
Lorenzo, who was never a member of any pictorial group, exhibited work several times in Fernando Fe, one of the leading modern galleries in Madrid at the time, and participated in numerous collaborations with other artists. In addition to being a painter, he was an outstanding engraver—this museum published his book of etchings Diez variaciones sobre un mismo tema [Ten Variations on the Same Theme] in 1970. His incisive texts on other artists of his generation also deserve to be noted: in 1963 he wrote a book on the drawings of Fernando Zóbel, and the abovementioned 1965 catalog included a text by Lorenzo on ... himself.
In Número 396, Lorenzo creates a space using filler. It is an ordered, structured space, on the lower edge of which the nuclei define a horizon, thus creating the abovementioned landscape effect.
Juan Manuel Bonet, en Catalog Museo de Arte Abstracto Español, Cuenca, Fundación Juan March, Madrid, 2016