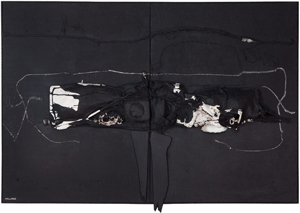 Sarcophagus for Philip II, 1963
Sarcófago para Felipe II is amongst Millares' most important works of the 1970s. Starting with the title, there is no doubt as to the context of this monumental and mournful piece.
1963, 1964 and 1965 were decisive years in Millares' career. Immersed in what might be termed a realist stage, he then found it necessary to further outline the objectives he had begun to define at the end of the 1950s in texts such as "El homúnculo en la pintura moderna," which was published in the Papeles de San Armadans issue devoted to the El Paso group.
Philip II, and "Black Spain" in a more general sense, was a source of inspiration for many Spanish artists of the period, including, Antonio Saura, Manuel Rivera and the members of the Equipo Crónica group.
Sarcófago para Felipe II has an archaic, solemn, funereal feeling that points towards Millares' passion for archeology. Let us not forget the interest he showed in the Guanche mummies displayed at Las Palmas' Museo Canario while still a young man. There was no doubt a darker side to Millares' personality, fascinated as he was by corpses, tombs, ruins and excavations. And all of it can be seen in this work. Therefore, it would be far too simplistic to try to explain such a powerful picture as this one in terms of mere political or social "criticism" —the artist is aware of being part of a tradition with which he has a peculiar love-hate relationship. Be that as it may, the origin of Millares' criticism is ethical and goes beyond any one particular political circumstance.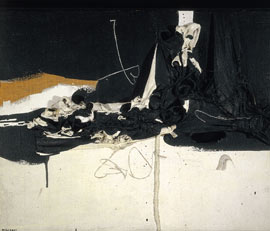 Mine Gallery, 1965
In Sarcófago para Felipe II [Sarcophagus for Philip II] we accompanied Millares through the maze of the Spain of El Escorial. In this smaller and more compact work, we follow him through the "mine gallery." It is not the first time that a metaphor of this nature appears in Millares work: like archaeology—another of his passions —mining is an activity that involves the manipulation of soil and the need to safeguard against cave-ins.
Naturally, these are simply metaphors, ways of describing a painting that, like much of modern art, defies verbal "explanation." However, in the same way that Sarcófago para Felipe II suggests a corpse lying in the middle of a tomb, with the indispensable help of the title we can contemplate Galería de la mina as a figurative space—the lower part, bereft of paint and therefore navigable, contrasts with the threatening profile of Millares' traditional torn and re-woven sackcloth above it.
When Millares first employed this technique, he was praised by some and vilified by others, who described his work as a manifestation of unsightliness. However, as is always the case with Millares, given the harshness of his themes, we end up in awe as to how he manages to produce a painting of such striking beauty, of such rare serenity and balance with this very technique.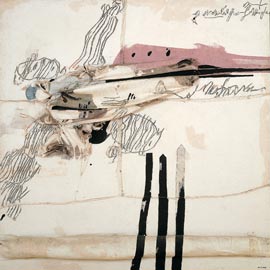 Anthropofauna, 1971
Manuel Millares died while still young in 1972. Whenever I think about the final stage of his work, the rotund and beautiful manner in which it was defined by the Portuguese critic José Augusto Franca springs to mind: "The triumph of white."
It is not as if there had never been white before in Millares' work. There had been, as well as pinks and grays. The sepulchral black of his earlier paintings was never so black as for it to be completely dominant. In Millares' tortured universe, there were always white spaces, as we have previously seen in Galería de la mina [Mine Gallery].
However, as his death approached, Millares, long afflicted by ill-health, elevated his work to a plane of unprecedented serenity. Set against the dark vision of his "homunculus," the realist period of Sarcófago para Felipe II [Sarcophagus for Philip II], or the 1964 anti-Franco satire of Artefactos para la paz [Artifacts for Peace], Millares' final period, with his Neanderthalios and Antropofaunas, constitutes a beautifully white and universal ending. To understand the genealogy of these later works, besides his approaching death, we should take into account the trip he made to the Sahara, where he took copious notes on animal skeletons lying at the side of the road.
Nevertheless, these new developments did not imply the exclusion of some of Millares' customary formalist motifs, nor did they prevent the appearance of paintings such as Homenaje a Miguel Hernández [Homage to Miguel Hernández, 1967], which was as black as any of his earlier works. It is also worth mentioning the portfolio Descubrimiento en Millares 1671 [Discovery in Millares 1671]—the diary of an imaginary archaeologist in the Spanish Golden Century—which was published by this museum in 1971.
Juan Manuel Bonet, en Catalog Museo de Arte Abstracto Español, Cuenca, Fundación Juan March, Madrid, 2016