Semana Santa en Cuenca, 1964
There is always a narrative element in Mompó's paintings. At times, this element is so dominant that we can see a story unfold, almost as if we were looking at a comic book. Mompó has included articles alluding to his personal tastes in many of his catalogs, which also include drawings that share this comic book quality.
When examining this particular work, we can resort to an interesting document: the sketch on board that is shown in the museum's nearby "black hall." Comparing both works allows for a better understanding of Mompó's working method, which was based more on subtraction than on addition—the sketch seems more concrete, more graphic, harsher, whereas the painting suggests lightness, weightlessness and flight.
"Colors to conceal that black which is so national, so familiar to us all." That is how the film director Luis García Berlanga saw Mompó's early work. It is true that nobody was further away than him from the neo-sensationalist or neo-tenebrist line followed by so many Spanish painters at the time. "His has been the most joyous space of Spanish art in the last quarter of a century," wrote critic Vicente Aguilera Cerni in 1966. Let us imagine for a moment that Antonio Saura had produced a work entitled Semana Santa en Cuenca—the dominant color would probably have been black, as in his portraits of Felipe II. Or, if it had been painted by Manuel Viola, the hoods of the penitents would have been the formal support for an entire theory on peaks and hollows. But Mompó adopts an opposing viewpoint in which Easter is seen through the eyes of an astonished child—it is a show of lights, the sum of a series of disperse, minor events.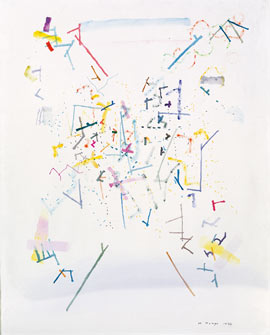 Calle de fiesta, 1977
Mompó painted Calle de fiesta thirteen years after Semana Santa en Cuenca [Easter Week in Cuenca]. Long gone were the days when he allowed the viewer to walk with him along the road which leads from the concrete motifs of reality to the painting.
In Calle de fiesta he has become so abstract that everything seems to float on the white surface of the canvas. The figures dance before our eyes in an indeterminate space, and are drawn with very little pigment—they are so diluted it almost seems as if he had painted them with water-colors. In the texts he included in his catalogs, Mompó borders on the poetic: in a 1973 poem he writes, "The letters of the conversation float in space." This idea of floating juxtaposed realities, of dispersion, presides Calle de fiesta. In the same catalog that includes the previous poem, we read, "A woman - a window - a laugh - a man - a light - a desire - a blue shadow - a bird - an embracing couple - some children - a sun." And so on, until he fills an entire page. Evidence, once more, that Mompó is a painter-poet. Later on he would even dispense with the canvas, using an acrylic glass base for his paintings —now his figures would really dance on the air.
To celebrate Spain's incorporation to the European Common Market, Mompó was commissioned to produce a poster on the theme "Spain." I have never been in favor of political interpretations of artistic works, but there is no doubt that Mompó opted for what the writer Azorín, a fellow native of the Mediterranean coast, called "the bright Spain."
Juan Manuel Bonet, en Catalog Museo de Arte Abstracto Español, Cuenca, Fundación Juan March, Madrid, 2016