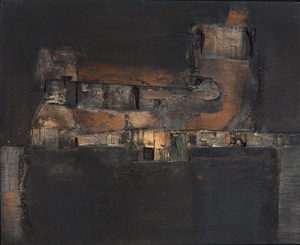 Green and Black Structure, 1961
Muñoz set out on a career in abstract expressionism in 1956, during a decisive stay in Paris, where Michel Tapiè was preaching the good news of the art autre. A few years after Muñoz began working with paper and earth, in what could be defined in the parlance of the time as "matter" painting, he discovered the material which would be the basis of most of his subsequent work: wood.
1960 and 1961 were important years for Muñoz. Firstly, his work became internationally acclaimed, and secondly, it was then that he began to dig deeper into his own personal pictorial world. Some of his most austere and grave works were produced at the time—although their surfaces are covered with scratches, patches and gaps, contrary to what we might expect, destruction was not a prevailing element of these works. There were also chromatic surprises at the time: black, gray, brown and other dark colors dominate his images of the period, but filtering silently through these, we see livelier colors, such as blues, mauves, reds and greens.
Although Estructura verde y negra is an abstract landscape, this does not necessarily mean that Muñoz's intention was to evoke a concrete place. However, because of the range of colors employed and a certain formalist organization, many would place it in the conventional category of the "landscape."
While other Spanish artists of his generation concentrated on the pomp, ruins and tragedies of Spanish history, Muñoz, despite also being influenced by the Generation of '98, preferred to look at Spain's more natural aspects. In the same manner as other artists who share his nomadic spirit, Muñoz always held a special attraction for Castile.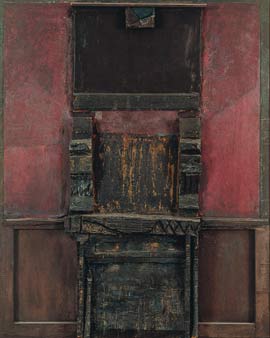 Seat of Honor, 1965
Sitial belongs to a period when Muñoz was toying with the idea of making his work more object-oriented. We no longer come across the lacerations and cracks that ripped through the surface of his early works, and, formally, everything is more organized now —only a few years before, a composition with such a strong geometrical foundation would have been unimaginable in Muñoz.
Sitial also contains something of the objet trouvé. As in many of Muñoz's other works of this period, the artist uses an old wood molding as his starting point, conferring artistic presence upon a found piece in what might be described as an archaeological stance: recent artists who could be described, to a greater or lesser extent, as archaeological also include the Kurt Schwitters of the Merzbau, the Joseph Cornell of the boxes, the Louise Nevelson of the great wooden constructions and—closer to Muñoz—a certain Manuel Millares.
Despite the geometry, Sitial is an unsettling work that points to the existence of an everyday mystery, a trait that, from that point on, would become a hallmark of Muñoz's creations. Thus, the everyday and the fantastic go hand in hand in this work, which evokes the lugubrious half-light of a cathedral —a dimension of close unease that would be accentuated in the period in which Muñoz created strange beings with shared traits from the animal, mineral and vegetable kingdoms and set them on lunar backgrounds.
Sitial is also a work that allows for an appreciation of the artist's refined manner of incorporating vibrant colors, such as red or blue, into his somber, nocturnal universe.
Juan Manuel Bonet, en Catalog Museo de Arte Abstracto Español, Cuenca, Fundación Juan March, Madrid, 2016