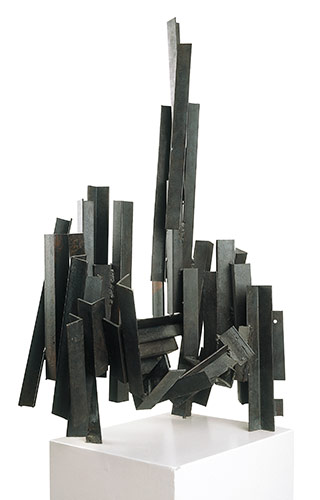 Water Flow, 1964
Contemporary sculpture has undergone a series of changes and metamorphoses that have maintained it in a state of perpetual crisis since sculptors decided to abandon the human body as their model. It was much easier for painting, with a long tradition in the representation of other subjects, such as landscapes and still lifes, to tread the road to abstraction. Sculptors, however, have followed two different paths: the imitation of the path followed by painting, and the exploitation of the expressive values of the materials with which they work.
The title of Rubio Camín's work suggests an abundance of water, perhaps pointing to the representation of water falling and splashing. Nevertheless, if we examine what we see, the work shows a group of industrial metal components that have been arranged in a manner similar to the brushstrokes of some of the paintings that can be seen in this museum. The model is not therefore the behavior of water but the plastic gesture of painting.
But the great innovation in contemporary sculpture was to free itself of the noble materials of the classical tradition, and thus sacrifice the craftsmanship of hammering hard stone. Modern day sculptors choose new industrial materials. In this piece, Rubio Camín uses fragments of laminated components, originally made for metal carpentry, which have been joined in accordance with the industrial procedure of soldering. In this manner, a cold and useful material becomes an expressive and abundant stream of "three-dimensional" paint that responds to the vital impulse of the artist, who gives body and volume to the graphic gesture.
Javier Maderuelo, en Catalog Museo de Arte Abstracto Español, Cuenca, Fundación Juan March, Madrid, 2016