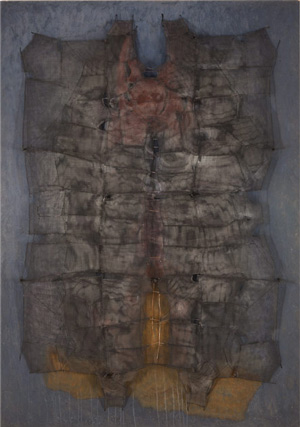 Metamorphosis (Magic Mirror), 1963
Much of Rivera's work is related to his native Granada. It is not a question of geography, as it can never be in the case of a modern artist, nor can we speak of him belonging to a local "school." However, there is no doubt that Rivera—like his fellow artist from Granada, José Guerrero—frequently produced motifs inspired by the city of the Alhambra.
Rivera liked to find reference points or poetic pretexts for his paintings. Therefore, it is not surprising that, throughout his work, one finds references to Federico García Lorca, Granada's most celebrated poet.
In this sense, Metamorfosis (Espejo del duende) is a paradigmatic piece. On consulting Rivera's complete works in his 1981 anthology, we find that it is the first of his metamorphosis to be defined as a mirror. The duende [magic] in the title is precisely a tribute to García Lorca, who was the one poet capable of defining that elusive term with precise words.
A mysterious presence emerges from this subtle framework of superimposed metallic cloth. Rivera was never tempted by sculpture nor by cold kinetic experimentation. Instead, he submerged himself deeper and deeper in regions of mists, of waters and half-lights.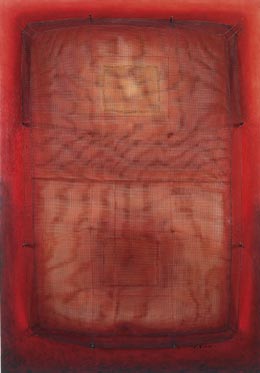 Sun Mirror, 1966
This is, without doubt, the most spectacular of all the Rivera pieces in the museum's collection. Like most of his work, it is based on the superimposing of metallic cloth, and it is of tremendous simplicity from a formal point of view. Despite the intervention of real light and the fact that any movement on the part of the viewer creates a multitude of possible interpretations, Espejo del sol has more in common with the meditative side of abstract expressionism than with any rationalist project.
Starting at a certain point in his career, the word espejo [mirror] appears in the title of most of Rivera's pieces, which is especially significant if we view the title as often adding the finishing touch to the painting. The term "mirror" is almost always accompanied by an adjective: if we look through the list of Rivera's works, we find Elizabethan mirrors, haunted mirrors, dark mirrors and, eventually, this sun mirror. Yet another sun to set alongside those of Eusebio Sempere, Luis Feito and Gustavo Torner.
At the end of the day, and despite the fact that Rivera is more abstract than any other member of the El Paso group, we realize that his works are also based on surrounding realities, which he recreates poetically through memory. Of these realities, two stand out above all others: history and Granada. Speaking to the artist José Luis Jover, Rivera once said, "The towers of the Alhambra, the enclosed patios, the gardens of underwater light, the plastered inlays....The magic of all this, as seen through latticed windows, is present throughout my work."
Juan Manuel Bonet, en Catalog Museo de Arte Abstracto Español, Cuenca, Fundación Juan March, Madrid, 2016