Athos, 1960
Rueda liked to reduce the chromatic range of his works to one saturated color, leaving materials in their natural color or restricting the palette so as to play with very similar shades. This latter characteristic is very particular of Spanish baroque painters who, making use of dark colors, such as what was called Earth of Seville, used by Diego Velázquez as a chromatic device, endowed their complex compositions with a great sobriety.
This "Spanish" sobriety is easily recognized in this painting by Rueda, in which color is restrained to a range of dark grays that can be confused with black. Its title accentuates the sensation of our being before a painting dominated by mystical renunciation, as Athos is the name of a Greek mountain to which monks and hermits retired in order to live a life of spiritual recollection. However, this painting is not a view of that mountain or a landscape of any sort. It is an abstract composition with no visual reference that displays tension between the formalism of the composition and the non-objectivism of the manner in which the paint is applied. Therefore, we could say that its title expresses the idea of recollection, not of place. In the painting, a series of irregular surfaces of different sizes appear to group themselves one after the other, following a horizontal line close to the upper edge of the canvas. If anyone imagines to see the image of some houses on the slope of a mountain, that mountain will definitely not be a Greek one. On the contrary, I would venture to say that the origin of the shapes that make up this painting can be found in the subconscious memory of the Hanging Houses that hold this museum.
Javier Maderuelo, en Catalog Museo de Arte Abstracto Español, Cuenca, Fundación Juan March, Madrid, 2016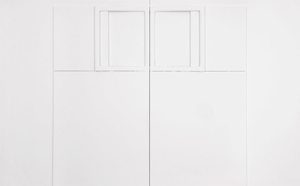 Large White Painting, 1966
Rueda's monochrome works of the early 1960s have been justly linked by critics to spatialism, the ephemeral Italian tendency that included often highly different artists, such as Lucio Fontana, Piero Manzoni and Enrico Castellani. Actually, Rueda's works were exhibited in Italy at the beginning of the 1960s in the same context as those of these painters. However, Rueda's work lacks the extreme gestures for which Manzoni is renowned. His approach was always a more silent one and his temperament closer to that of certain cubists. Indeed, among the Italians, Rueda would never cite Manzoni or Fontana as his principal influences. Instead, he would opt for Giorgio Morandi, a painter who belonged to a different generation and who almost never left his hometown of Bologna.
Nevertheless, at certain stages of his career, Rueda did share with spatialist painters a series of formalist themes deriving from the search, first for the monochrome and, later, for total white. The most significant of these is, without doubt, the role given to shadows—a white painting with relief always suggests an empty stage inhabited by shadows, the nature of which depends on the chosen illumination.
The diptych Gran pintura blanca is characteristic of this yearning for whiteness that seized Rueda. This monumental and solemn work, with a central core around which everything is symmetrically ordered, is somehow suggestive of a modern altarpiece.
Juan Manuel Bonet, en Catalog Museo de Arte Abstracto Español, Cuenca, Fundación Juan March, Madrid, 2016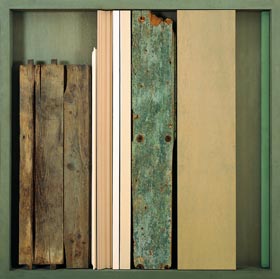 Greens from the Alhambra's Forest, 1988
This work, like others by Rueda, is a box, a container where the artist deposits objects and materials that catch his eye. It is not foolish to assume that the work began with one of these findings, with the contemplation of a piece of wood that was previously part of a door, on which the marks of the enormous nails that joined it to its frame can still be seen. The wood, painted and re-painted during its many years of service, displays an enormous amount of flaking and scratches, bringing the first layers of paint, the chromatic strata, to the surface, as in an archeological site.
This discarded piece of wood, with its washed-out green tones, is undoubtedly what sharpened the artist's eye as he searched for more pieces of wood, for colors and textures capable of combining with the original one, of forming a group that could generate a new harmony. Thus, some chance pieces of wood, left to rot, are ssembled with strips of wood that have been carefully selected for the quality of their texture after being cleanly sanded down or painted with subtle tones in a matt finish. Using the technique of assemblage, Rueda thus achieves a suggestive beauty that reminds him of a moment spent in autumn among the trees that surround the Alhambra. The title, Verdes del bosque de La Alhambra, allows for Rueda's excitement to be shared by the viewers, who can recall a certain autumn moment of their own, another real moment, similar to the one displayed by Rueda's work. In this manner, the flaky green becomes the imaginary medium of an atmosphere, awakening our recollections.
Javier Maderuelo, en Catalog Museo de Arte Abstracto Español, Cuenca, Fundación Juan March, Madrid, 2016