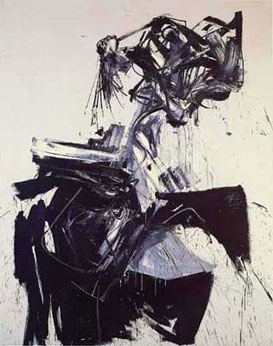 Brigitte Bardot, 1959
Saura was never afraid to deal with what might be called "life's crucial subjects" in his paintings. On the contrary, he consciously confronted them, finding substance for his work in themes such as death, religion, sex or violence.
Formed as a surrealist, Saura's discovery of the possibilities of action painting coincided with the realization that he was not interested in absolute abstraction. On the contrary, he was interested in the preservation of certain figurative motifs as the foundations of his work.
A great admirer of Pollock, Saura basically learnt two things from American abstract expressionism: the use of very large surfaces that allowed for the total liberation of pictorial expression and a fast and nervous way of applying the paint on the canvas, a technique which in reality had its origin in surrealist automatism.
The other foundation of his working method was traditional Spanish art, through which he acquired a certain darkness in his color range—especially that of well-known, easily-recognizable painters such as El Greco, Juan de Valdés Leal, the Ribera of Mujer barbuda [Bearded Woman, 1631] and, above all, Francisco de Goya's Pinturas negras [Black Paintings, 1819–1823].
Brigitte Bardot is not an attempt to create a figurative portrait of the actress, and Saura certainly did not try to achieve any manner of physical resemblance in the painting. On the contrary, his aim was to build a picture from a disjointedly sexual figure. Miraculously, this exacerbating and at the same time magnificent painting is a pictorial success, not simply a mish-mash of meaningless splashes. Saura said that Brigitte Bardot was "fervent proof of the existence of love." He also maintained that, in a portrait, the presence of the model is less significant than the mental illusion created by the painter.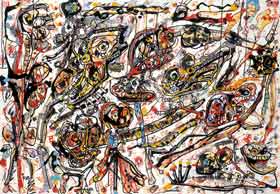 Cocktail Party, 1960
For the majority of modern artists, the use of paper provides the opportunity to exercise a greater chromatic moderation. However, it is in this domain that Saura finds it easiest to renounce such moderation. On canvas he normally works with the narrowest possible range of colors, as can be seen in several examples housed in this museum, in which Saura gradually, almost cautiously, adds reds, grays, some brown, a little bit of ocher and some gloomy grayish-blue to the initial black and white. On paper, however, Saura tends towards a wider chromatic range, allowing for yellows, greens, light blues and oranges to emerge in his work.
The humorous aspect of Saura's paper and print work is also worthy of mention. Humor is an essential ingredient in modern culture, art and poetry, and for Saura—as is also the case for his former teacher André Breton—humor means black humor.
It is precisely the importance he places on humor that makes Saura something of a spiritual brother to the Nordic artists of the Cobra group, who, like Saura, created a group based on those of the initial avant-garde and who, like Saura, trace their origins to post-war neo-surrealism.
Of all of Saura's works, his Cocktail Parties are precisely the most similar ones stylistically to the harsh, disjointed, folkloric and popular aesthetic of the Cobra group. In this case, the painter turned moralist contemplates everyday life and the habits of the modern world, which offer him the opportunity to satirize as he creates a surprising display of deformed anatomies.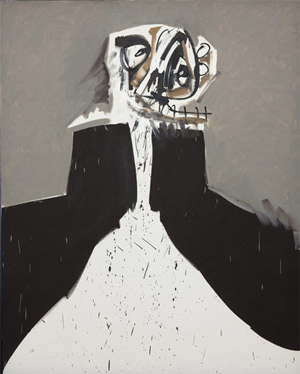 Geraldine dans son fauteuil, 1967
Geraldine dans son fauteuil is amongst the most representative works created by Saura during his mature period. Compared to Brigitte Bardot, with which it maintains a certain thematic and compositional similarity, it surprises the viewer for the greater tranquility it displays. Here Saura does not express himself with his customary vehemence—there is more self-containment, more refinement of color and, we might even say, a greater classicism.
Without doubt, the "system" is the same as in his first Damas [Ladies] and in Brigitte Bardot—the same "system" we would talk about if we were to analyze Pablo Picasso's portraits of Dora Maar. In Saura's work, however, there is always a certain fanaticism about the chosen method, which is asserted no matter what the circumstances and independently of the possible thematic variations. Moreover, Saura has never been particularly worried about the medium he uses, as he is not influenced by the stage in which he finds himself in his work—at least not when it comes to what he himself called "the battle of the canvas." Saura carries his personal obsessions wherever he goes, constructing a kind of screen, a wall or portable studio.
Geraldine dans son fauteuil belongs to a series entitled Mujeres en el sillón [Women in the Armchair], which Saura exhibited at the Stadler gallery in Paris in 1967. The catalog of that exhibition includes a photograph of one of the walls of the artist's studio, completely covered with postcards, press cuttings, pages from pornographic magazines, sketches of future paintings, and so on. This chaotic collection of images, where the pin-up coincides with El Greco's sharp and spiritual Retrato de Paravicino [Portrait of Paravicino, 1609], offers Saura a fascinating closed compositional structure. Geraldine dans son fauteuil, by now a classic, is culled from this collection of images.
Juan Manuel Bonet, en Catalog Museo de Arte Abstracto Español, Cuenca, Fundación Juan March, Madrid, 2016