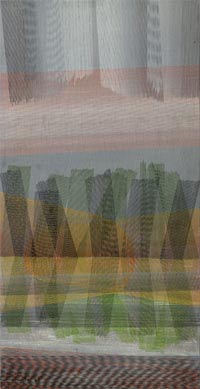 Pond 2, 1963
Although Estanque 2 is an abstract work, the title immediately suggests that its abstract quality may not be particularly solid. Sempere painted it three years after returning to Spain, at a time when he was drawn to landscapes, especially to Castilian landscapes. Just a few years earlier he would have rejected these ideas in the name of rationalist orthodoxy.
It would be difficult to find a Sempere piece that better embodies his virtues. The motif of the reflection on the water has a centuries-old iconography, including the theme of Narcissus. The technique in Estanque 2 is typical of Sempere, with its juxtaposition and superimposing of straight lines, for which the artist used a ruling pen. The result is an exquisitely delicate and crystalline work, a joyous work that—as in Paul Klee's water-colors or Erik Satie's piano music—is neither exaggerated nor underplayed. On the contrary, it has something to say to any sensitive person, irrespective of one's knowledge of Sempere's context, theoretical basis or remaining work.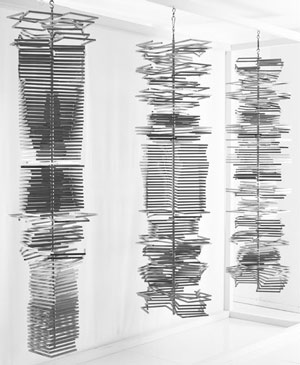 Columns, 1974
In addition to his pictorial works, Sempere produced a number of interesting sculptures. Both facets of his work are so interrelated that it is difficult at times to know whether a certain piece falls into the category of painting or sculpture. This is the case, for example, with his Cajas de luz [Light Boxes] or his Relieves luminosos [Luminous Reliefs] of the mid-1950s, works that are destined to hang from the wall but that incorporate a third dimension, as well as light produced by real light bulbs. In the opposite extreme we find Sempere's monumental Móvil [Mobile, 1966], which, despite obviously being a sculpture in terms of condition and weight, has an almost pictorial flatness. In Sempere's case, what is important is the project or plan into which the diverse areas of his work fall, not their categories.
In Columnas—currently on display at the very top of the museum, in front of a large window with a white curtain that acts as a light filter—Sempere shows himself as a subtle creator of three-dimensional space and a kindred spirit of Alexander Calder, with his light mobiles, destined to be moved by the wind, and of László Moholy-Nagy, with his complex technological artifacts.
In Sempere's work there is always tension between a basic order and a mobility or randomness. In the case of Columnas, the metal "S" shapes, which are strung together on each of the three axles, form the basic module the artist sets before the viewer. However, by spinning each piece around its axle, a large number of possible combinations arise, further increased by the play of light on the metal and the shadows cast by the columns.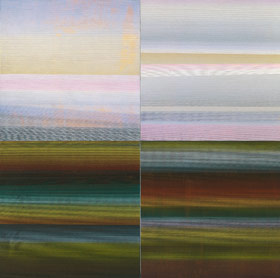 Horizons, 1974
Horizontes is another paradigmatic example of the most lyrical and least technological facet of Sempere's art. The division of the painting into four areas of equal size reminds us of the cycle of silkscreens entitled Las cuatro estaciones [The Four Seasons, 1980]. But in this case, rather than separating each of the landscape instances, the artist prefers to join them, underscoring the deliberate, and therefore nonnaturalist, aspect of the work. Sempere's constant desire to recreate landscapes in an abstract manner is especially evident in his works on display in this museum. A desire that is also manifest in Horizontes, as is his systematic approach, the formalist play of symmetries and his characteristic lyrical undercurrent. This conviviality, this dialogue between seemingly contradictory elements, which is at the very root of Sempere's crystalline work, is among the reasons why this painting captivates the viewer with an almost musical vibration. Horizontes, or more specifically these four simultaneously perceived horizons, are to certain extent a "variation on a theme."
Juan Manuel Bonet, en Catalog Museo de Arte Abstracto Español, Cuenca, Fundación Juan March, Madrid, 2016