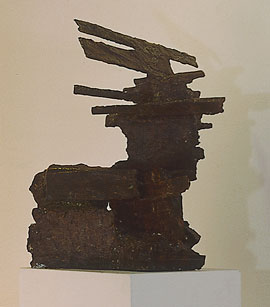 Cave for Mankind, 1962
Even though Serrano and his wife, the painter Juana Francés, left the El Paso group shortly after its foundation, his great experience in the field of abstract art—most of it acquired on the banks of the La Plata River, on the other side of the Atlantic Ocean—was of enormous benefit to the Spanish avant-garde of the 1950s. The title Bóveda para el hombre immediately qualifies the abstract nature of the piece, as it introduces the human component. Serrano produced many works that, as is the case of this one, were openly figurative, showing the extent of his eclecticism. The head of Antonio Machado, which he produced for the town of Baeza (Jaén) in the 1960s, became something of an emblematic image at the time, and he would later produce full-length sculptures of Benito Pérez Galdós, Miguel de Unamuno and Gregorio Marañón.
His Entretenimientos en el Prado [Entertainments in the Prado, 1974], based on works by Diego Velázquez and Francisco de Goya, are also worthy of mention, as it was with these works, rather than with his abstract pieces, that Serrano tuned into the preoccupations of his generation.
In his abstract work, Serrano was always a programmatic artist. He liked manifestos, proclamations and ceremonies—on one occasion at the end of the 1950s, he invited people to attend la Quema del objeto [The Burning of the Object], as he had previously proclaimed his Drama. The objective of these series was to search for the void through the destruction of the object.
Bóveda para el hombre is a relatively small sculpture cast in bronze. It suggests a habitable space, a space that is convivial or communal. The bóveda, or cave, was constructed using bricks, which were later melted down, disintegrating the structure of the artwork. In reference to these pieces, Serrano wrote, "Deep down, a man is nothing more than an animal searching for a cave in which to take refuge."
Juan Manuel Bonet, en Catalog Museo de Arte Abstracto Español, Cuenca, Fundación Juan March, Madrid, 2016