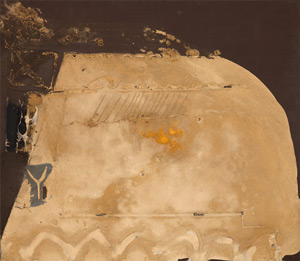 Marró i ocre, 1959
While in Dau al Set, Tàpies painted allegories, dream-like visions and dark landscapes. Starting in 1953, however, he began to abandon the more illustrative aspects of his work, picking up the threads of some old abstract works that he had assembled with more humble materials before the group's formation. Later came a period in which he consciously moved closer to American abstract expressionism.
In 1955, his first "mater" paintings caused a sensation when exhibited at the 3rd Hispano-American Biennial in Barcelona, where he received the modest Republic of Colombia Prize. With no other grounds on which to base a judgment, his work was described at the time with the "graffiticovered walls" metaphor. Emphasis was placed on his technical originality and on the use of sand—or more specifically marble dust—which, mixed with pigments, created textures that had never been seen before.
By 1959, when he painted Marró i ocre, Tàpies had already proven that his was an enduring talent. After the initial surprise died down, he further investigated the area of sovereign space, the silent region he had defined with his earlier abstract works.
Although other periods of Tàpies work are as relevant, and many of his later paintings are excellent, collectors, museum directors, critics and art historians tend to place greater emphasis on his work of the late 1950s. It is unquestionable that Tàpies' work of that period has an extraordinary bareness, rigor and contained expressiveness, of which Marró i ocre is a perfect example.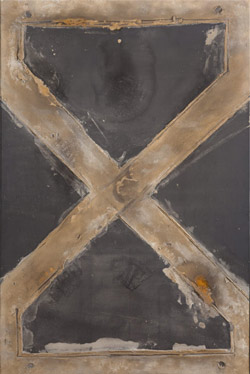 Gran ics, 1962
Of all of Tàpies works on display at the museum, this is undoubtedly the most radical, the most stripped-down and the most serious piece. Most of the poets, critics and historians who have explored Tàpies' universe have been struck by the impressive "moral" dimension that lends tension to his work. This dimension, present in all his pieces, is best appreciated in bare and extreme works such as Gran ics.
Tàpies, an artist who engaged empty spaces, was always very interested in Asian thought and art, which was reenergized in the 1950s by groundbreaking experiments such as those of the Japanese Gutai group.
The X that occupies and defines the space of Gran ics is one of the most recurrent symbols in Tàpies' work. In is first clumsy attempts at abstract art, which he later abandoned in favor of dream-like images, the young Tàpies gave vent to his fury by crossing out and smudging canvases. This was in the mid-1940s, prior to the Dau al Set period. This attitude undoubtedly intended to show his rejection of all that surrounded him, such as the crosses borne by the death notices in Barcelona´s newspapers. However, in 1953 he began to settle on the style that was to become his hallmark, which abounds with crosses, X's and smudges.
In 1965 he and Joan Brossa wrote a book called Novel-la, which was described by the poet as a "pictorial opera." In the book, Brossa and Tàpies reflect on the network of crosses, denials and destructive events that make up a person's life.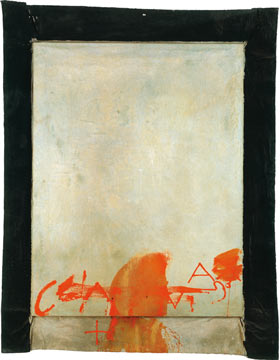 Blau i taronja, 1975
The very title of this wok, Blau i taronja, points to a departure from the grave, gray image that people often associate with Tàpies. The early 1970s saw the strengthening of en element that had always been present in Tàpies' work, although at a marginal or tangential level: the object and the montage. In a similar vein to the aesthetics of Arte Povera, which were experiencing an upsurge at the time, Tàpies produced during that decade a series of spectacular and aggressive montages, including chairs, armchairs, cupboards and straw-covered tables, among other objects, that remind us of Dadá objects and, even more, of those of the surrealists.
Although Blau i taronja is a painting, rather than an object, it could be exhibited in relation with some of the above-mentioned works of the 1970s. There is an element of surprise here, in that the canvas protrudes out over the frame. The result is a deliberate suggestion of poverty. However, in the midst of that poverty, the more intimate and lyrical voice of Tàpies shines through. It is a more disperse and pictorially renovating voice, which by the end of the 1970s, and particularly in the 1980s, was to become Tàpies hallmark, with whiter paintings and transparent varnishes.
Juan Manuel Bonet, en Catalog Museo de Arte Abstracto Español, Cuenca, Fundación Juan March, Madrid, 2016