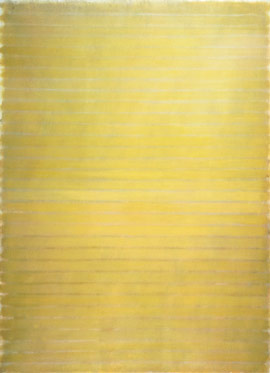 Yellow Bands I, 1978
At the onset of his career, Teixidor got in contact with the painters then working in Cuenca through the Museo de Arte Abstracto Español, benefiting especially from his meetings with Fernando Zóbel, Gustavo Torner and Gerardo Rueda. He thus entered the world of abstraction, within which his work grew influenced by minimal art and the theories of the French group Supports/Surfaces, among others, until he settled in the practice of a pure form of painting based on the fruition of the brushstroke and on oil as a ductile and greasy medium.
Teixidor's serene works consist of wide color fields with a certain vibrating effect. Although they may appear simple at first sight, the viewer quickly realizes that they are sensitive and passionate works constructed by brushstrokes that weave a web throbbing with lyrical evocations. Such is the case with Bandas amarillas I, a painting Teixidor developed starting from a minimalist structure; the parallel lines that follow each other uninterruptedly.
Like Jasper Johns in his famous series of paintings of the American flag, Teixidor chooses a repetitive and clear structure in order not to have to pay attention to compositional aspects that can be in detriment to the pictorial. By choosing these simple and identical horizontal bars as his theme, Teixidor can thus concentrate on the brushstrokes, the chromatic shade and the act of painting.
In this luminous, Mediterranean work we can appreciate a beautiful symbiosis between the lyricism of abstraction, the structural rigor of minimalism and the gestured pulsing of non-objectivism.
Javier Maderuelo, en Catalog Museo de Arte Abstracto Español, Cuenca, Fundación Juan March, Madrid, 2016