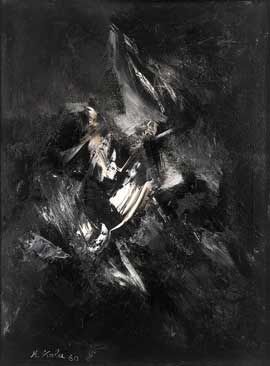 Black and White Painting, 1960
It was in the 1950s that "Manuel Viola" finally settled on his artistic name, and we could say his work also "settled" during that period. It was also then that works such as La Saeta [The Arrow, 1958] brought him to the El Paso group.
At the time, Viola was regarded as the most vehement of Spain's abstract expressionists, although in reality he was a far more cultured painter than his boisterous arguments and fondness for folklore might suggest. His paintings contain frequent tributes to the poets, thinkers and mystics of the tradition to which he belonged —in this he differed from his former companions of his French period. In 1959 he painted Homenaje a Rothko [Homage to Rothko], a tribute to the most mystical of American painters, although his own work was closer to that of Emilio Vedova.
A formidable type, Viola was not satisfied limiting himself to works of a purely introspective nature, as is proven by his incursions into areas where other painters did not dare to venture, such as bullfighting, flamenco, cock fighting or the Cuban Revolution. In this respect he was very Spanish, and even more so in his predilection for a certain color range. The critic José María Moreno Galván described his work as "the ghost of tenebrism, or better still, that of seventeenth-century Spanish realism." This magnificent painting, in which a kind of white bonfire is set against a black background, is to some extent indicative of these influences.
Juan Manuel Bonet, en Catalog Museo de Arte Abstracto Español, Cuenca, Fundación Juan March, Madrid, 2016