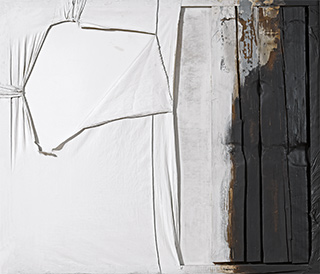 Homenatge a Zurbarán, 1964
Trained in the 1950s, during the final phase of surrealism, with the artists of Barcelona's Dau al Set group, Guinovart was an empirical painter who evolved from a restrained figuration to a material-based abstraction in which he made free use of the widest range of materials and discarded objects as visual elements for the creation of compositions characterized by their large format and notable complexity.
These characteristics are evident in Homenatge a Zurbarán, a painting of emphatic presence that combines a series of elements that are characteristic of this phase of Guinovart's work. These elements include the canvas stretchers or wooden structures, which confer a material reality to the painting; the pieces of cloth that are torn in order to reveal what lies behind them; and the paint itself. In the case of the latter, while contributing to the work in a physical sense, as matter, it also justifies the status of this assembly as a painting, in other words, as a work of art.
The use of humble materials, in contrast to the so-called "nobility," or even opulence, of traditional media used in the creation of works of art, acquired an aesthetic and critical sense with the emergence of Arte Povera. Thus, the low value of the employed materials was seen as a way to reveal the creative capacities of the artist who was capable of producing works charged with visual tension using the most seemingly inappropriate and insignificant media. This aim is confirmed in the present painting by its dedication to Francisco de Zurbarán. The compositional austerity and sobriety of color that characterized the work of this Spanish seventeenth-century artist are also suggested in Guinovart's work by the verticality of the elements and the reduction of the palette to just two tones: black and white.
Javier Maderuelo, en Catalog Museo de Arte Abstracto Español, Cuenca, Fundación Juan March, Madrid, 2016