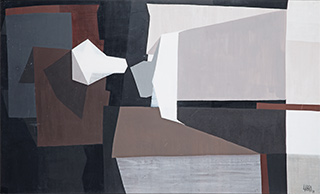 Composition, 1959
Having initially produced religious paintings with schematic shapes and stylized lines, in the mid-1950s Labra began to create genuinely abstract compositions based on flat lines that defined surfaces of a geometrical nature. Interested in liturgical buildings, he also worked with innovative architects, such as Miguel Fisac, on the design of stained-glass windows, wrought-iron grilles and other architectural elements, making use of repeated structures that he organized on the basis of numerical relations, and thus becoming a pioneer of the fusion of art and functional design in Spain.
Labra participated as a painter in the exhibition Primera Exposición Conjunta de Arte Normativo Español [First Joint Exhibition of Spanish Normative Art], held at Valencia's Ateneo in 1960. He was also part of the group of artists —including Elena Asins, José María Iglesias, Gerardo Rueda, Eusebio Sempere, Gustavo Torner and José María Yturralde—who took part in the celebrated exhibition Arte objetivo [Objective Art], held in Madrid in 1967, which was the first Spanish show of geometrical abstract art, a trend that opposed figurative formalism and functioned as a counterpoint to lyrical and expressionistic abstraction.
Composición offers a clear example of this line of work. Built from the starting point of a series of straight lines that form surfaces through their intersection, each line has its own color, in this case gray-brown tones that are structured around small white surfaces that become the luminous focal points of the work. In both its symbolic and physical sense, light was among Labra's main interests.
Javier Maderuelo, en Catalog Museo de Arte Abstracto Español, Cuenca, Fundación Juan March, Madrid, 2016