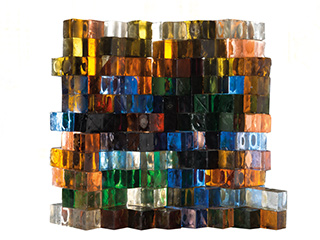 Stained-Glass Window with Hele Module, 1966
Trained as an architect, in the 1950s Leoz focused on social housing, working on the construction of socalled "purpose-built housing estates," which required extremely simple solutions in response to the many issues involved. These responses led him to abandon construction and devote his attention to theoretical research in order to improve social housing through technological innovation. The result was the creation of a construction module in the form of the letter L, which he presented at the 6th São Paulo Biennial in 1961. Consisting of four cubes, Leoz called it the "Hele Module."
Like many architects of his generation, Leoz was interested in the integration of contemporary art into new architecture, which offered painters and sculptors the opportunity to create murals, stained-glass windows, metal screens and grilles, as well as other abstract elements, as an integral part of the building practice. Leoz himself produced sculptures that were the result of his geometrical research and the application of his Hele Module, which referred to minimalism in terms of date and appearance, even though they derived from other conceptual requirements.
Vidriera con módulo Hele can be understood as an architectural element: a stained-glass window through which light enters a closed space, illuminating it with soft glints of color. However, it can also be seen as an independent sculpture, given that its presence, materiality and formal characteristics transform it into an abstract work of art.
Javier Maderuelo, en Catalog Museo de Arte Abstracto Español, Cuenca, Fundación Juan March, Madrid, 2016