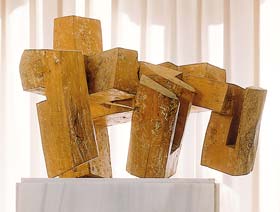 Abesti gogorra IV, 1960
This sculpture is one of Chillida's most important and celebrated works. Carved on several perfectly joined pieces of poplar wood, it has graced this museum's entrance since its opening, lending it an air of monumental tranquility and absorption with its little nooks and crannies, so characteristic of the artist's work. The first four versions of Abesti gogorra—the first one dates back to 1960–1961 and can be seen at Houston's Museum of Fine Arts—are carved in wood, a material Chillida had only used previously as a base for his works in iron, despite its abundance in his homeland. The fifth and final version is a monumental piece in granite, and is housed in the garden of the same Houston museum. Chillida also used alabaster, cut steel and terracotta to create his sculptures.
Chillida's work always proposes a certain meditation, a contemplation of space, and a personal manner of delimiting and articulating it. In Abesti gogorra the space is choral and tragic, the scene of a chant—sculpture as an ancestral "meeting place," which is the title of several of Chillida's works, including the piece that can be seen in the gardens of the Fundación Juan March's headquarters in Madrid. It is also sculpture as interior space. In a letter to the great student of modern sculpture Carola Giedion-Welcker, Chillida wrote, The common problem with all my recent work, both in wood and iron, is interior space, both the consequence and the origin of positive exterior volumes.
Juan Manuel Bonet, en Catalog Museo de Arte Abstracto Español, Cuenca, Fundación Juan March, Madrid, 2016