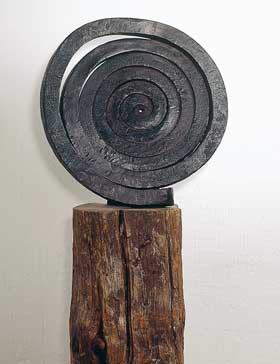 The Wind, 1963
On the one hand wrought iron, on the other the wind. The reconciliation of such antagonistic realities appears to be a difficult proposition, but Chirino managed to achieve it. He managed to forge winds, that is, to forge works in iron whose projection suggests the speed of wind. It is thus understandable that a poet, a sensible and far-sighted soul by nature, would focus on this paradox and give it shape.
In 1960, the first of Chirino's "wrought winds" was exhibited in New York as part of the MoMA's New Spanish Painting and Sculpture exhibition. By that time, Chirino had been part of the modern artistic horizon for years. Like his friend Manuel Millares, in an earlier period Chirino had focused on primitive art—his Reinas negras [Black Queens] have something of an afro-cubist feel. Later would come the Castilian foundry, the plough and the railings, a reclusive period spent in a workshop at Calle Herrerías in Cuenca, the lineal purism of his 1958 exhibition in Athens, etc.
In a learned work on the sources of Chirino's "winds," Luis Diego Cuscoy, a researcher into the culture of the Canary Islands, explains the importance of the spiral motif in the primitive art of the archipelago. As in the case of the Reinas negras period, one might describe this work as a modern look at ancestral roots. There is something of this nature to be seen in the association Chirino himself formed between the spiral and the mask in his Afrocán series. However, we must not forget that his is an open, universal proposal. Like any genuine artist who looks to the past, Chirino does so in order to facilitate his path towards the unknown.
Juan Manuel Bonet, en Catalog Museo de Arte Abstracto Español, Cuenca, Fundación Juan March, Madrid, 2016