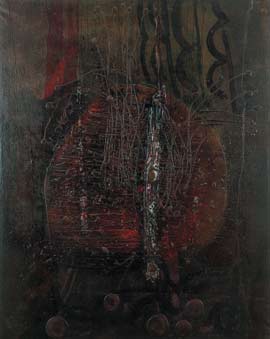 Large Baroque, 1959
In 1959, the year in which he painted Gran barroco, Cuixart won the International Prize for Painting at the São Paulo Art Biennial. Well known in Catalan circles since the time of the Dau al Set [Seven-Spotted Dice] periodical, he thus came to join the select group of contemporary Spanish artists whose work was exhibited in Europe and America.
In essence, Cuixart's work had not changed much since 1948, when, along with Antoni Tàpies, Joan Ponç and Joan-Josep Tharrats, he launched Dau al Set. Although starting in 1955 he adopted a more abstract style, he always remained among the many unsettling artists working on the margins of surrealism.
During the latter part of the 1950s, Cuixart lived between Paris, a city he had frequented since 1950, and his "tender and baroque" Lyon. Although not all his black and gold paintings were painted in his studio at Lyon's decrepit Saint-Jean quarter, I cannot help but feel that much of the mysterious atmosphere of that city—the stairways, alleys, patios and traboules, as well as the fog—is present in these difficult, disturbing images, which are amongst the most genuinely poetic and nocturnal in Spanish abstract art.
Gran barroco is a perfect example. Against a black background that suggests a nocturnal and dark romanticism, Cuixart added reds and his characteristic iridescent golds, a real hallmark of his work, scratching the paint and making cuts and incisions that are at times redolent of Lucio Fontana. Finally, he added spirals and splashes of gold to enliven the painting. It comes as no surprise that another work of this period painted in a similar vein is entitled Escritura de oro [Gold Writing].
Juan Manuel Bonet, en Catalog Museo de Arte Abstracto Español, Cuenca, Fundación Juan March, Madrid, 2016