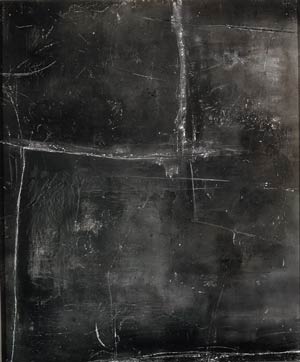 Gray Painting, 1957
In Spain, at the end of the 1950s, institutional suspicion and the war against official conformity led to a genuine faith in abstract art. The effervescence of the avant-garde artists, rewarded with the aesthetic achievements that can be admired in this museum, led many figurative painters towards abstraction. This was the case with Delgado, a painter of landscapes and empty spaces that recreated bleakness.
In contrast with the fame and unquestionable critical acclaim of most of the artists represented here, Delgado is what we could call a travelling companion, an occasional abstract painter. But his Cuadro gris is of such intensity that it responds faithfully to the atmosphere represented by the large exhibition hall in which it hangs.
Cuadro gris consists of oil and tempera on a wood board. The oil gains body and emerges from the surface in ridges that offer small plastic phenomena that can only be appreciated when the work is viewed in tangential light, as it is painted in a narrow range of blacks.
The painting is characterized by subtle changes of texture and shades of black, by the strokes of tempera on the oil, and by the scratches and scrapes that raise the pigment, revealing the preparation of the board and showing previously hidden parts of the work. The surface, rich in hues, is scored with rough horizontal and vertical lines that arrange and divide the space, recreating an atmosphere not far removed from that of his landscapes.
Juan Manuel Bonet, en Catalog Museo de Arte Abstracto Español, Cuenca, Fundación Juan March, Madrid, 2016