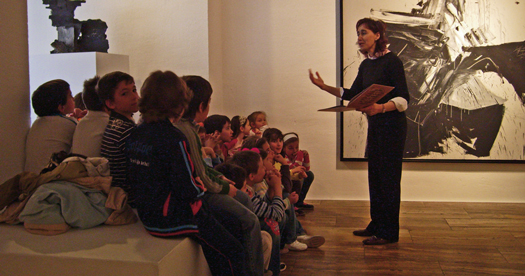 Visits
Visits to the permanent collection are offered in which participants explore different rooms of the museum and individual works in order to establish the basis for conversations through which students will become familiar with the kinds of visual language characteristic of different abstract art. Students are given the opportunity to enjoy the art on display at the same time that they develop their knowledge. These visits have different levels of complexity and the content and length of the activities vary according to the characteristics of the group. Docents work to facilitate dialogue and active participation.
• Groups: pre–school, primary and secondary–school, and university students; as well as diverse adult groups, including cultural associations and families; maximum 25-30 participants per group
• Length of activity: approximately one hour
Workshops
The museum also offers workshop–visits that follow an itinerary focusing on a selection of paintings and sculptures in the permanent collection in order to become familiar with the language of abstraction. The objective is to work with various conceptual categories: nature/landscape; line/geometry; sound/silence; space/architecture; construction/deconstruction; and light/shadow—categories that apply equally to works of art and to our immediate surroundings. For these workshops, docents will take into account the specific characteristics and aims of each group.
• Groups: pre-school, primary- and secondary-school students; maximum 25-30 participants
• Length of activity: 2 hours (one-hour museum itinerary; one-hour workshop)
• Workshop activity