Venice, 1962 – Cuenca, 1966
November 4, 2016 – May 21, 2017
Room Z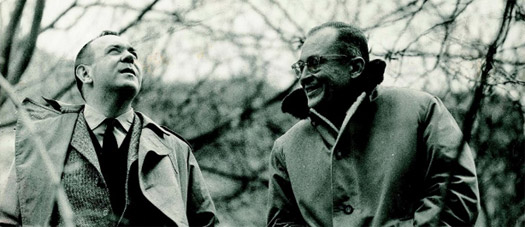 Gustavo Torner and Fernando Zóbel below the San Pablo Bridge in Cuenca, c 1966
In 1962, Gustavo Torner and Fernando Zóbel were chosen, along with several other artists, to represent Spain at the XXXI Venice Biennale. This small exhibition traces the period between these artists' encounter in Venice and their creation of the Museo de Arte Abstracto Español in Cuenca in league with Gerardo Rueda in 1966. The works by these two artists, archival material from the estate of Fernando Zóbel, photographs, and other visual and documentary material on display, reconstruct a vivid picture of a moment in time that would have a decisive impact on the history of Spanish contemporary art.
A Collection of Spanish Abstract Art: 1966–2016
November 4, 2016 – March 5, 2017
Rooms 1–12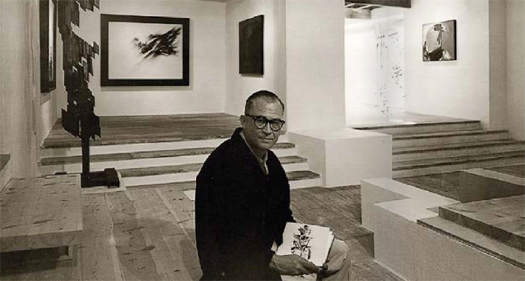 Fernando Zóbel in the Museo de Arte Abstracto Español in Cuenca in 1966. Photo: Archivo Fundación Juan March
To mark the enlargement and reorganization of its facilities, the Museo de Arte Abstracto Español will display a cross-section of its collection that includes a number of new accessions. This exhibition is the fruit of an in-depth study of the Fundación Juan March collection and the museum's expanded exhibition spaces conducted to facilitate the "slow rotation of works" originally envisioned by Fernando Zóbel that has been a hallmark of the museum since 1966.
The Other Permanent Collection
November 4, 2016 – March 5, 2017
Rooms A–E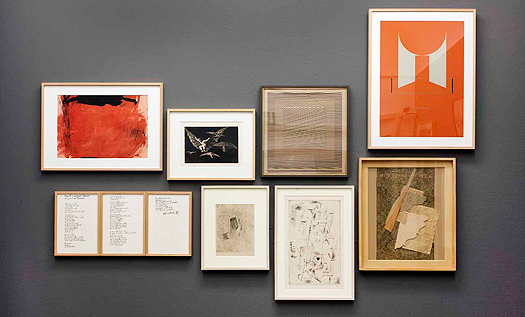 From left to right, works by Antoni Tàpies, Francisco de Goya, Eusebio Sempere, Gustavo Torner, Rafael Alberti, Pablo Picasso and Gerardo Rueda. ©Vegap, Madrid, 2016
In addition to pursuing a career as a painter, Fernando Zóbel was an active art patron and collector. This exhibition includes works from Zobel's private collection donated to the Fundación Juan March by the artist in 1981 as well as items drawn from the collection the foundation began to assemble at that time. These pieces, a number of which formed part of the original museum presentations of the 1960s, provide interesting parallels to the works by the artists represented in the museum in that they complement one another, often explore the same pictorial motifs, and, in some cases, provide the keys to new interpretations.
Much in the spirit of Wunderkammern—the so-called "cabinets of curiosities" in which collectors mix works of art with all sorts of unusual and marvelous objects—this exhibition brings together a variety of small-scale paintings, sculptures, models, drawings, prints, and artist's books, which due to conservation considerations are seldom publically displayed.