The exhibition spaces: Palma, Cuenca and Madrid
Sound Art in Spain (1961–2016) traces the origins, history, diversity and vitality of the sound art produced in Spain from 1961 to the present. By means of the range and variety of works selected and extensive documentation, it purports to make visible (and, above all, audible) the ways in which sound has been employed to create artistic works in this country as far back as the 1960s and 1970s – decades before the term 'sound art' was coined to describe this phenomenon.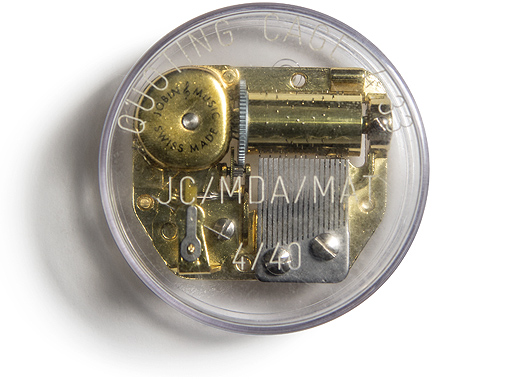 María de Alvear - Miguel Ángel Tolosa, QUOTING CAGE 4' 33'', 2012. Music box. Ana de Alvear collection
The exhibition, which has been organised in collaboration with guest curators José Iges and José Luis Maire and other artists, authors and experts, will travel to three venues during 2016, starting with the Museo Fundación Juan March, Palma (February–May) and the Museo de Arte Abstracto Español, Cuenca (June–September) before being presented in an extended version in the foundation's galleries in Madrid in October. In addition to more than twenty sculptures, sound and video installations and specially commissioned phonographies (pieces based on field recordings) by Xabier Erkizia and Juanjo Palacios (in Palma and Cuenca respectively), the exhibition features a variety of related objects that include books, scores, diagrams, documentary photographs, leaflets, posters, LPs, CDs and cassettes.
Sound Art in Spain (1961–2016) approaches exhibition design from a fresh, new perspective: the individual sound works, installations and audiovisual and printed documentation of which it is comprised will not be displayed as a group in separate galleries in the Palma and Cuenca museums as is usually the case in temporary exhibitions, but rather interspersed with pieces pertaining to the Fundación Juan March permanent collection of contemporary art. This selection includes little-known examples of sound art produced by artists whose works in more traditional media form a part of the Fundación Juan March collection as well as pieces by their contemporaries.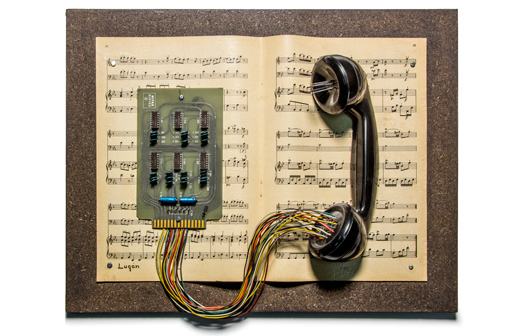 LUGAN. Partitura telefónica [Telephone score], 1986. Assemblage. Lent by the artist
The permanent collection of the Fundación Juan March contains pieces by various artists who incorporated sound in their work in different ways, including conceptual artist Ferran García Sevilla and others directly involved in the avant-garde experimental music scene such as Martín Chirino and Manuel Millares, the latter of whom exhibited his 'artefacts' in a group exhibition by the artists' collective Zaj in 1965. It also includes pieces by artists who made their mark during the 1960s and 1970s such as Eusebio Sempere and José Luis Alexanco, who may not have considered themselves to be sound artists but nonetheless have contributed to the development of sound art in Spain. The pioneering forays of these individuals and others into interdisciplinary experimental art did much to expand the horizons of collectors and stimulate the interest of museums, art centres and private foundations in exhibiting and acquiring work in this new genre.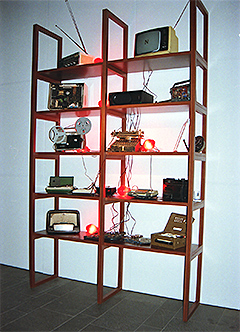 Concha Jerez y José Iges. Inventario, [Inventory], 1992–1998. Intermedia work. Museo Vostell Malpartida. Junta de Extremadura.
A number of works selected for this exhibition therefore inevitably highlight, interact or establish dialogues with others from the foundation's permanent collections in Cuenca and Palma also on display. Various pieces from the permanent collection by artists active in the 1980s and 1990s such as José Luis Alexanco and Elena Asins and Eva Lootz, whose work involved or provided precedents for sound art, formed part of the exhibition at the Museu Fundación Juan March in Palma. At the Museo de Arte Abstracto Español in Cuenca, which is celebrating its fiftieth anniversary during 2016, the exhibition will place a special focus on the sound art activities of two local institutions: the Gabinete de Música Electroacústica, an arts centre where artists have been experimenting with a Synthi 100 (one of the most legendary synthesizers in the history of electroacoustic music) since the 1980s, and the University of La Mancha's School of Fine Arts, which turns 25 this year.
This exhibition is also aligned with the programming activities of the foundation's Department of Music, which organises individual concerts and concert series, as well as the aim of the Contemporary Music Documentation Centre it founded in 1983 to strengthen its scholarship and holdings in the area of experimental and electronic music.
...to providing a fresh look at works from the foundation's own collection, Sound Art in Spain (1961–2016) will highlight the contributions of Zaj, Isidoro Valcárcel Medina and Lugán (Luis García Nuñez), whose pioneering experimental and cross-disciplinary works paved the way for the emergence of sound art...
In addition to providing a fresh look at works from the foundation's own collection, Sound Art in Spain (1961–2016) will highlight the contributions of ZAJ, Isidoro Valcárcel Medina and LUGAN (Luis García Nuñez), whose pioneering experimental and cross-disciplinary works paved the way for the emergence of sound art as a genre, as well as an overview of works by a wide variety of other artists such as Walter Marchetti, Francisco López, José Antonio Orts, Eduardo Polonio, Fernando Millán, Esther Ferrer, Bartolomé Ferrando, Juan Hidalgo, Wolf Vostell, Javier Aguirre, Nacho Criado or José Maldonado.