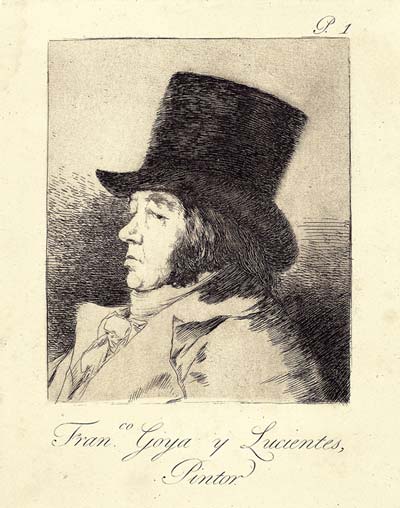 With 102 prints, this exhibition presents the complete series of Francisco Goya's Caprichos (80 prints, from the third edition, 1868) and of the Disparates (22 prints, 18 from the sixth edition, 1916, and four from the first edition, 1877), which are among the examples of graphic work by the artist in the collection of the Fundación Juan March.
The Caprichos constitute the first group of prints that Goya prepared with the aim of selling them as a complete set. Their genesis was probably slow and should be viewed in light of the personal crisis provoked by his illness beginning in 1792, an experience that led him to become withdrawn and introspective, giving free rein to his "capricho" (fantasy, caprice) "y a la invención" (and to his creativity). In these works, the artist presents a singularly incisive vision of reality, focusing on the irrational, on what does not yield to logical analysis or cannot be reduced to an archetype. The extraordinary imagery one finds in these prints offers satire that was at the time considered dangerously sharp: beneath the generalized abstractions, Goya's contemporaries could with good reason perceive more specific indictments—a kind of criticism that was doubly suspicious in those years when Spain's neighbors across the Pyrenees were experiencing the turmoil of the French Revolution.
The Disparates (a title which might be translated as "follies" or "absurdities")—also sometimes referred to as the Proverbios (Proverbs) or Sueños (Dreams)—are the most difficult series of prints by Goya to interpret. He produced these works in his old age, apparently immediately after the Tauromaquia series, in a spirit that is not unlike that of the Pinturas Negras, or Black Paintings. Like those paintings, the Disparates may be dated to around 1819–23. Some of the proofs bear inscriptions that seem to be in Goya's own hand and that identify the prints individually as disparates, which has led to the use of that term as a general title for the series—a title that suits the extremely absurd, irrational vision these works convey. Indeed, from the perspective of Goya's dark pessimism during the years of Fernando VII's absolutist rule with the restoration of the Spanish monarchy after the Napoleonic Wars, it seems clear that these prints should be interpreted along the lines of the classic themes of the absurdity of life, the brutality of the forces of evil, the predominance of hypocrisy, or the inevitable triumph of old age, suffering and death over human existence.