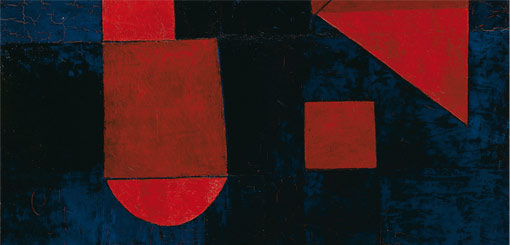 Four, 1950. Collection Maeght, Paris.
Pablo Palazuelo (1915–2007) is one of the most renowned Spanish artists of the second–half of the twentieth century. As a result, his work not only forms part of many important collections, but it has also been well documented and analyzed in leading publications (among them, those featuring his own texts) and has been the subject of numerous, comprehensive, and recent exhibitions. In the first decade of the new century, Palazuelo′s oeuvre appears to be as celebrated as it is well–known.
With this in mind, when–some three years ago–the idea of putting together an exhibition of Palazuelo′s work was first discussed, the organizers proposed approaching unexplored areas of his life and work, if at all possible, rather than revisiting others previously touched upon. There were other motives for their interest as well, such as the Fundación Juan March′s ownership of several works by Palazuelo in the collection –Omphale V (1965-1967), for example was acquired from the artist by Fernando Zóbel and entered the collection of the Museo de Arte Abstracto Español already in 1967—and the interest of the Fundación-Museo Jorge Oteiza in Palazuelo. These considerations directed the initial research, which yielded a promising realization: no other exhibition had focused, either in general or in detail, on the nearly two decades that Palazuelo had lived in Paris.
In effect, Palazuelo left for Paris–still the modern art capital of the world–in 1948 and would remain there (though intermittently towards the end of his stay) for twenty years, until he returned to Spain in 1968. Those years–as this project has gradually revealed and as Alfonso de la Torre relates in detail in the catalogue–were pivotal to Palazuelo′s work as an artist. Spent for the most part in the small apartment at 13 rue Saint-Jacques, it was during these years that Palazuelo's "introverted imagination" unleashed a private battle with his predecessors (Klee and Kandinsky), developed his unique abstract and geometric language, and constructed the grammar for all his later work.
Pablo Palazuelo: Paris, 13 rue Saint–Jacques (1948–1968) is a project of the Fundación Juan March, co–produced with the Fundación-Museo Jorge Oteiza, and organized with guest curator Alfonso de la Torre and the collaboration of the Fundación Pablo Palazuelo. The exhibition presents an overview of more than one hundred; paintings and drawings, complemented with a variety of material documenting Palazuelo′s Paris years, much of it previously unpublished.