Pablo Palazuelo, "A gentleman of solitude"
THE LABYRINTH OF PARIS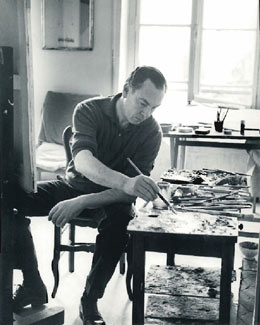 Palazuelo at his studio
13, rue Saint-Jacques, 1962
Photo: Abraham Lurie Waintrob-Budd Studio
On October 22, 1948, Pablo Palazuelo embarked on a train journey from Madrid to Hendaye, en route to Paris. Traveling in the utmost solitude on the eve of a fall weekend, he may have been mulling over the lonesome time he had spent in England, from 1933 to 1936, as a student of architecture in the School of Arts and Crafts at Oxford University, years when his family's attempts to turn a true artist into a prominent architect fell on barren ground. During the long autumnal crossing, on his way to Paris, Palazuelo was immersed in the process of "searching for a path ... as if in a maze" - he said several years later, recalling the distressing voyage.
A close look at the two decades Palazuelo lived in Paris show him to have had the mindset of an integral artist. The accounts that have come down to us confirm this, piecing together the tale of a firm and solid artistic personality. Palazuelo is usually described as a solitary and disciplined yet passionate and intense creator. It is worth pointing out here that he was among the first Spanish artists to leave for France following the Second World War, only months after diplomatic relations had been restored and the Comité d'Accueil established for foreign students.
Paris was a desolate place in 1948. With the war just over, the first Spanish artists would not arrive for at least another five years. "Soledad"—Solitudes—was a word often used by Palazuelo, and the title of a series of five paintings on canvas dating from 1955. He garnered a reputation as a "gentleman of solitude" among his acquaintances, and particularly between those who visited his studio on rue Saint-Jacques, where he settled in 1954. And loneness became the trademark of his trajectory.
Almost unintentionally, Palazuelo became a classic expatriate. An outsider in France, estranged from his family, he was an unusual resident, a man who strolled the streets of a neighborhood alive with the sounds of different peoples and races. He was also a student—for bureaucratic reasons—of engraving at the School of Fine Arts, though his age set him apart from the Spanish artists who studied and settled in France in the late 1950s. Ten years their senior, Palazuelo was a recognized artist by the time they met at the Musée des Arts Decoratifs in 1959, with two solo exhibitions at the Galerie Maeght, held in 1955 and 1958, behind him.
In other words, Palazuelo was a marginal artist. In 1959, Françoise Chaoy, an expert in Spanish art, described his work as "that of an outsider" in France Observateur. It took eleven years of artistic activity in France before the first substantial review of Palazuelo's work was finally published in Spain that same year. Painter Juan José Tharrats began his article by pointing out the lack of knowledge surrounding Palazueo's work.
In his writings, and especially in his poems, Palazuelo transformed his intense loneliness into a mystical solitude or, in his own words, a prison of the senses: "lache, j'ai soif" (let go, I am thirsty). "The truth creates at its own expense" —the final verse of a poem by Jorge Guillén—was chosen by Palazuelo to illustrate an issue of Derrière le miroir.
13 RUE SAINT-JACQUES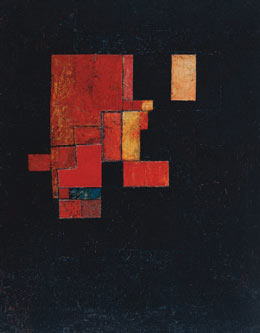 Sur noir
, 1949
Museo Patio Herreriano, Valladolid
Palazuelo arrived in Paris on Saturday, October 23, 1948. A detailed list of Palazuelo's many residences, starting with his stay at the Collège d'Espagne in the Cité Universitaire and concluding with his studio on rue Saint-Jacques, appears in both this essay and in the chronology to this volume. In this regard, 1954 marked a before and after in the life of the artist. It was the year he moved to rue Saint-Jacques and occupied a property the Maeghts temporarily lent him, confirming the close ties that existed between them. Rue Saint-Jacques draws a line between two periods in the artist's career: his early yet brilliant student years at the Cité Universitaire and the period of artistic maturity which led to his first solo exhibition at the Galerie Maeght.
In Paris Palazuelo undertook studies in engraving during what must have been the difficult final term of 1948, his first year in France, as a prerequi-site to leave the Cité; in 1951 he attained his much-longed-for independence. As noted in the chronology, he studied under the renowned painter and lithographer René Jaudon, who gained popularity as Pierre Soulages´ professor. An illustrator of classic manuscripts and books by Goethe and Rabelais, Jaudon also assisted in printing Picasso's illustration for Apollinaire's Calligrammes, a well-known profile portrait of an injured Apollinaire with a bandage on his head.
During the winter of 1948, while registered as an auditing student at the École Nationale des Beaux-Arts on rue Bonaparte, in the heart of the Latin Quarter. On his way to the School of Fine Arts, Palazuelo could stop by Librairie Fischbacher, not far from his soon-to-be home on rue Saint-Jacques. Following a short and enigmatic stay in Villaines-sous-Bois in 1951, the tables turned for the artist in 1954, when he moved to a fourth floor studio on 13 rue Saint-Jacques. Photographers Abraham Lurie and Sidney Waintrob, from New York's Budd Studio, and Asturias-based Nicolás Müller visited this studio. Palazuelo underlined the importance of living in such a multicultural neighborhood at a time when this was still surprising. A legendary place, the starting point of the ancient pilgrimage route to Santiago de Compostela, Palazuelo had chosen to walk in the opposite direction, making it his final destination. The district teemed with "decadent" bookshops specializing in philosophy, alchemy, or esotericism. These books would eventually take up both his time and room on his shelves.
(Extracted from "Pablo Palazuelo. An introvertd imagination", by Alfonso de la Torre, in the catalogue)