Pablo Palazuelo: Madrid-Paris-Madrid (1948-1968)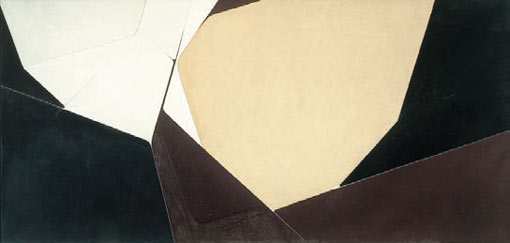 Omphale V
, 1965–1967
Museo de Arte Abstracto Español, Cuenca (Fundación Juan March)
In 1948, Pablo Palazuelo de la Peña (Madrid, October 8, 1915–Galapagar, October 3, 2007), son of Enrique Palazuelo García and Clotilde de la Peña y de la Peña, is granted a scholarship to study art in Paris by the Comité d'Accueil aux étudiants étrangers of the Ministry of National Education through the French Institute in Madrid. He arrives there by train on Friday, October 22, 1948. During his first two-year sojourn (October 25, 1948-October 28, 1950), he resides at the Spanish College, the Collège d'Espagne in Paris' Cité Internationale Universitaire. Palazuelo's scholarship will be renewed in December 1951, albeit without the financial support he had received until then.
In 1949, two of Palazuelo's works are exhibited for the first time in Paris at the fifth Salon de Mai, presided over by Gaston Diehl and held between June and July at the Musée d'Art moderne. In October he suggests that Palazuelo contribute three works to the group exhibition Les Mains éblouies at their Paris gallery. Palazuelo's showing at the Galerie Maeght, which had opened three years earlier, would mark the beginning of a long relationship and would include solo exhibitions of the artist's work in the gallery at 13 rue de Téhéran, Paris, in the years 1955, 1958, and 1963, coinciding with Palazuelo's sojourn in the city.
In 1951 three of his works are exhibited in the Tendance exhibition held at the Galerie Maeght. On this occasion his work coincides with that of Ellsworth Kelly, an artist whom Palazuelo had met at the Cité Universitaire, Among the painters he would come to know during these years, Palazuelo commented on meeting "Poliakoff, Soulages, Bazaine, Alechinsky, Adami, Yves Klein, Mortensen, Kelly, Bram van Velde, De Staël, Vasarely, and other members from the Cold Abstraction group associated with the Denise René Gallery, as well as Miró, Braque, Giacometti, or Chagall,
In 1952 French State purchases the artist's 1950 painting Composition abstraite (Abstract Composition, cat. 11) for the Musée d'Art moderne. Palazuelo is one of eleven artists –and the only Spaniard–selected by James Johnson Sweeney for the exhibition Younger European Painters-A Selection, which opens on December 2 at the Solomon R. Guggenheim Museum in New York.The Kandinsky Prize, created in 1946, was awarded to young painters whose work evinced a personal search for abstraction. The prize committee, which met on December 22, 1953, awards the 1952 Prize to Palazuelo.
13 RUE SAINT-JACQUES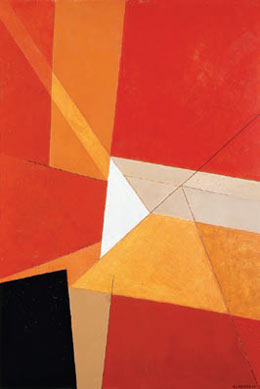 Rouge
, 1951
Kunstmuseum St. Gallen. Donación de Erna
and Curt Burgauer
Following his experience with the "strange flower" of December 1951, Palazuelo produces the sculpture Ascendente (Ascendant) in Madrid. Modeled in clay from the well in the family home of "La Peraleda" in Galapagar, later to be cast in bronze, it is turned down by Maeght's director, Louis Clayeux, who deems it a "painter's sculpture." It is an isolated experience, at least until he takes up sculpture in the mid-1960s.
In 1955, Palazuelo shows his work at the Première exposition d'ensemble held at the Galerie Maeght on 13 rue de Téhéran. The exhibition includes nineteen oils on different supports by the artist, dated between 1949 and 1955, some of which had already been displayed in the previously mentioned group exhibitions at Maeght. The gallery publishes a special issue of Derrière le miroir dedicated to Palazuelo, profusely illustrated by him and with essays by Julien Alvard, Will Grohmann, and Georges Limbour. One of his works, Solitudes I, is included in this year's edition of The 1955 Pittsburgh International Exhibition of Contemporary Painting. It appears in the Spanish section of the catalogue with the attribution "School of Paris", which became commonplace during this period. He will return to Pittsburgh in 1958 (Carnegie Prize, 5th place), 1961, 1964, and 1967.
In 1958 Palazuelo has his second one-man exhibition "des peintures récentes" at Maeght. It includes twenty-three works, paintings, and drawings produced between 1955 and 1958. As it did for his previous solo show in 1955, Maeght Éditeur publishes an issue of Derrière le miroir devoted to Palazuelo, illustrated with his drawings. A jury comprised of Mary Callery, Marcel Duchamp, James Johnson Sweeney, Vincent Price, Lionello Venturi, and Raoul Ubac, awards Palazuelo the Carnegie International Prize (5th place) for a work from the Mandala series (1958). The work is acquired by the Institute.
Twenty-seven works, paintings, and drawings, dated between 1959 and 1962, comprise Palazuelo's solo show at the Galerie Maeght in April 1963. Jean-Jacques Leveque categorizes the display as "un ordre nouveau". As in 1955 and 1959, Maeght Éditeur publishes a special issue of Derrière le miroir dedicated to Palazuelo, illustrated with his works and with an essay by Pierre Volboudt.
On March 14, Palazuelo's work is included in the inaugural exhibition of the Galería Juana Mordó, Madrid. On July 28, 1964, André Malraux, Ministre d'État des Affaires Culturelles, inaugurates the Fondation Maeght in Saint-Paul de Vence, which shows works by Palazuelo, who attends the act.
In December of 1967, Omphale V (1965-1967) —commissioned from the artist in 1965 and purchased directly from him—enters the collection of the Museo de Arte Abstracto Español, Cuenca. It will be installed in April 1968.
In 1968 Palazuelo returns definitively to Spain. By the early 1960s he had begun making regular trips back to his native country, with stays that became progressively longer. Early in May of this year he visits the Museo de Arte Abstracto Español in Cuenca, signing its guest book. His work would be included in the many group exhibitions organized at the Cuenca museum. Years later, in 1973, on the cusp of his sixtieth birthday, his first solo exhibition in Spain will take place at the Galería Iolas-Velasco in Madrid.
He sets up his studio in Galapagar, at the family residence "La Perelada", where he paints until his death in 2007.
(Extracted from the Chronology, by Alfonso de la Torre, in the catalogue)