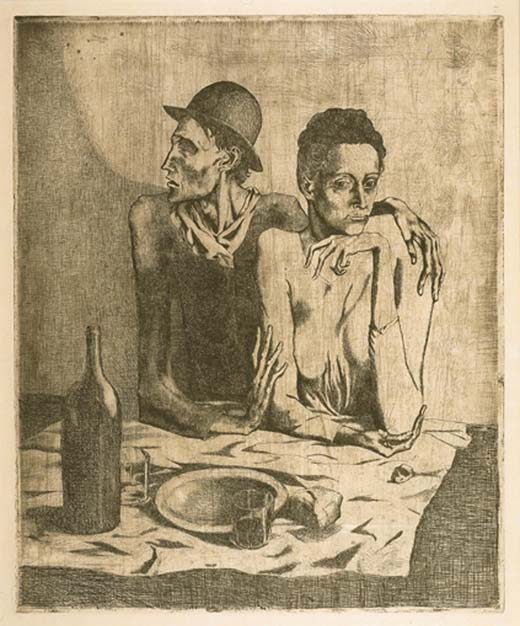 La comida frugal
, 1904
This exhibition will present a selection of graphic work by Pablo Picasso, one of history's greatest masters of printmaking. The exhibition will consist of valuable prints from the early part of his career and from the 1930s, with more than thirty pieces from the Fundación Juan March collection and from a private collection.
The exhibition is organized around a work that falls at the end of its chronological scope, one that is absolutely fundamental in Picasso's oeuvre and in the history of printmaking: the Minotauromachie (1935), which was produced in a very limited print run and of which very few copies exist in Spain. It is regarded by many specialists to be one of the greatest achievements of the twentieth century in the graphic arts.
Besides two other prints from the same period whose subject is also the bullfight, the exhibition includes a compendium of twenty-eight etchings dated between 1904 and 1915, and prints from Picasso's Blue and Rose Periods, such as Le Repas frugal (The Frugal Repast, 1904) and Les Saltimbanques (The Acrobats, 1905), as well as prints from his Cubist Period.
Pablo Picasso (Málaga, 1881–Mougins, 1973) always accorded great importance to his graphic work. From an early age he revealed great passion for printmaking, and he produced works using almost every technique, experimenting with etching, drypoint, engraving with burin and even sugar aquatint. By virtue of these diverse techniques, Picasso's prints achieved an extraordinary level of expressiveness that confirms his absolute mastery of printmaking. Between 1899 and 1972, he worked incessantly in this medium, producing around 2,200 prints throughout his career. These works constitute a kind of personal diary and enable us—since they are dated with precision—to retrace his artistic trajectory in great detail. The subjects and concerns reflected in his painting are equally noteworthy in his graphic work, which also makes manifest Picasso's skills as a draftsman and as an artist working in thematic series.