The celebration this year of the bicentenary of the Museo Nacional del Museo del Prado, marking its opening to the public on 19 November 1819, will be accompanied by a wide-ranging and diverse programme. Among the numerous scheduled activities is the exhibition On tour through Spain. For one month, a painting of particular importance from the Prado's collection will leave its habitual gallery and be displayed in museums around Spain, one for each autonomous community and city (except Madrid). Within the Autonomous Community of Castile-La Mancha the chosen museum is the Museo de Arte Abstracto Español in Cuenca (Fundación Juan March), where visitors will be able to see Saint Francis in prayer, painted in 1659 by Francisco de Zurbarán.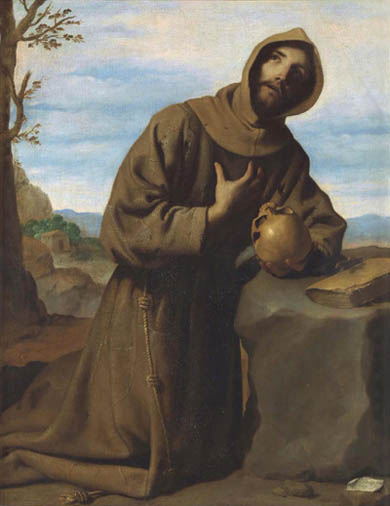 Francisco de Zurbarán. San Francisco en oración [Francis in prayer], 1659.
© Museo Nacional del Prado, Madrid
The presence of a 17th-century artist of the stature of Zurbarán in a museum of abstract art offers a unique opportunity to appreciate the attraction that the Museo del Prado has held for 20th-century art. The repercussion and influence on contemporary art of some of the Prado's most representative artists – El Greco, Zurbarán, Murillo, Goya and Velázquez – has been notable and celebrated. Furthermore, in the reverse direction, the traces of movements such as Symbolism, Cubism, Surrealism and Expressionism can be detected in works now considered classics.
Most of the artists in the collection of the Museo de Arte Abstracto Español have manifested their profound admiration for the Museo del Prado. As their writings record, they have singled out artists and works to form part of their personal, imaginary museum. Some, such as Antonio Saura, Manuel Millares, Soledad Sevilla and Gustavo Torner, have emphasised that admiration in their conversations and in the titles given to their works. In other cases, the relationship is a less overt one. Of the twelve artists whose works were included in the exhibition The Museo del Prado seen by twelve contemporary Spanish Artists (held at the Prado in 1991 at the initiative of the Fundación Amigos del Museo del Prado), six are represented in the permanent collection of the Museo de Arte Abstracto Español: Eduardo Chillida, Albert Rafols-Casamada, Manuel Rivera, Gerardo Rueda, Antonio Saura and Gustavo Torner. In addition, Eduardo Arroyo and Luis Gordillo have been the subject of temporary exhibitions at the Prado. Works by artists of the past have always provided interesting pretexts for constructing new interpretations that reflect the artistic concerns of each period. The case of Gustavo Torner is furthermore a unique one, as not only has he expressed his interest and admiration for the Prado's building and its artists but he has also been directly involved in the installation of some of its galleries.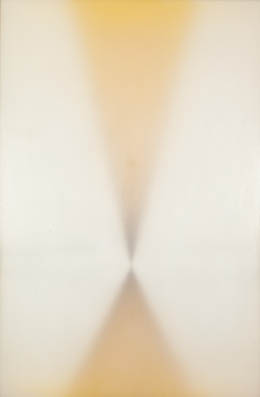 Gustavo Torner. Homenaje a Zurbarán [Homage to Zurbarán], 1970.
Colección Fundación Juan March, Museo de Arte Abstracto Español, Cuenca
© Cortesía Fundación Juan March, Madrid. Photo: Santiago Torralba
© Gustavo Torner, VEGAP, Madrid, 2019
Zurbarán's painting will be exhibited in the so-called Black Gallery in the museum, opposite Homage to Zurbarán (1970) by Gustavo Torner. In the entrance gallery two further Homages to Zurbarán, by Josep Guinovart (1964) and Gerardo Rueda (1965), will accompany the commanding presence of 17th-century painting in the rooms of a modern art museum. The festive spirituality of Holy Week in Cuenca by Manuel Hernández Mompó (1964) and Pink Transparency (1964), a small canvas by Fernando Zóbel that was used for the Cuenca Easter Week poster in 2016, will be shown alongside these works, completing a group of paintings that will transform the museum into a unique space in which art and its contemplation come together to span four centuries.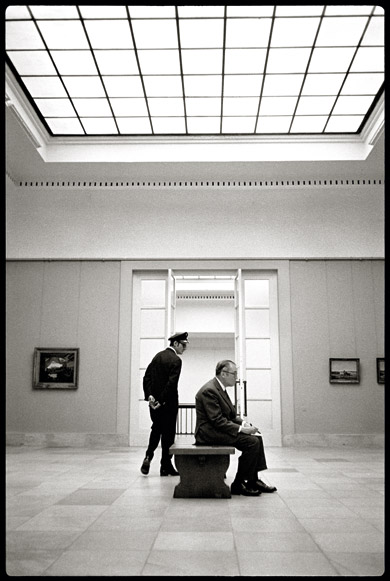 Cristóbal Hara. Fernando Zóbel drawing in a museum in Munich, 1968. Archivo Fundación Juan March. © Cristobal Hara
The exhibition is part of the project On tour through Spain, organised by the Museo Nacional del Prado to mark its bicentenary.