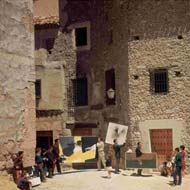 A New View on the Cliff
(TIME, 1966). Photo: Eric Schaal. Courtesy Eric Schaal Estate
On 30 June the Museo de Arte Abstracto Español, located in the historic Hanging Houses in Cuenca, celebrates the 40th anniversary of its foundation and inauguration. The Fundación Juan March owns and manages the Museum's collection, donated by its creator and former owner, the painter Fernando Zóbel. The Fundación is celebrating this event with an exhibition on the history of this unique institution, which Alfred H. Barr, founder and first director of the Museum of Modern Art in New York, described in 1967 as "the most beautiful small museum in the world", and "surely one of the most admirable, indeed brilliant works of art, a remarkable balance of painting, sculpture and architecture". From 1980, the year of its donation, the Fundación Juan March has focused on conserving and exhibiting the collection, which it has also increased. Since 1994 the Fundación has also organised temporary exhibitions at the Museum on the work of leading Spanish and international artists.Through a selection of works on paper, photographs, historical documents and eye–witness accounts, the exhibition intends to commemorate Zóbel's altruistic adventure, both personal and artistic, which led him to create, in collaboration with Gustavo Torner and Gerardo Rueda, the Museo de Arte Abstracto Español in the Hanging Houses, located above the gorge of the River Huécar.