A retrospective of 42 works, created between 1964 and 2003, by Luis Gordillo (Seville, 1934), one of the most influential masters and renovators of contemporary Spanish painting. Entirely dedicated to the theme of duplicity, the exhibition reflects the fundamental elements of two seemingly contradictory traditions in his work: the expressionistic and gestural character of informalism, and the figurative, commercial, and popular aspects of Pop Art.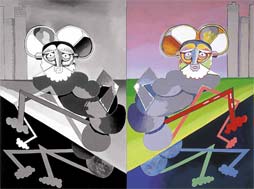 Gran veloz iscariote dúplex, 1973-74
The exhibition reveals the artist's method of working in series, developed throughout the course of his career, wherein drawing, painting, and photography are integrated into the recurrent use of specific iconographic elements: heads, containers and drums, cars, pedestrians, animals.
The works display diverse techniques: oil and acrylic on canvas, pencil and mixed technique on paper and panel, serigraphy, collage, photo-collage, photo montage on wood, Ilfochrome and digital processes. The works come from the artist's own collection, other private collections, and institutions.