Picasso: Tauromaquia
February 26 – May 23, 2010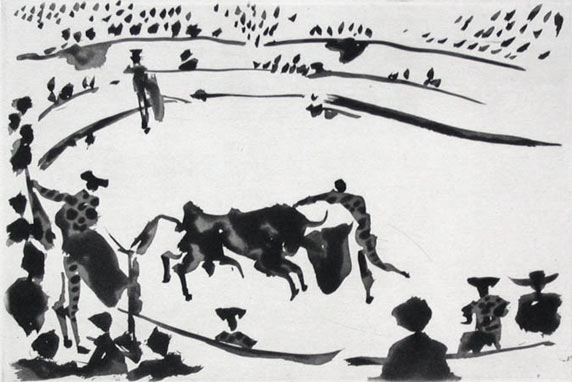 Picasso was commissioned by the publisher Gustavo Gili to illustrate Pepe Hillo's bullfighting manual Tauromaquia o el arte de torear. In the late 1950s, and after having attended a particularly magisterial bullfight in Arles, Picasso created these 26 etchings—today in the Juan March art collection—in which he depicts the different stages of the bullfight in a rapid, sketchy manner as if recording them directly from life.

Museo de Arte Abstracto Español
(Fundación Juan March)
Hanging Houses (Casas Colgadas)
CUENCA
Visiting hours
:
Monday: Closed.
Tuesday-Friday:
11 a.m. – 2 p.m.
4 p.m. – 6 p.m.
Saturday:
11 a.m. – 2 p.m.
4 p.m. – 8 p.m.
Sunday/Holidays:
11 a.m. – 2:30 p.m.
Entrance fee
Adult: € 3
Reduced: € 1,50
• Senior citizens (65 and over)
• Students with i.d.
• Groups
Free:
• Citizens and residents of Cuenca
• Children under 10