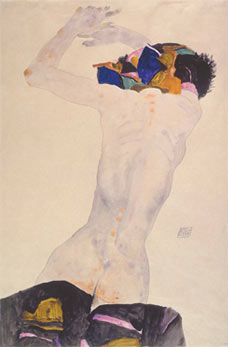 Female Nude with Colorful
Kerchief, Back View, 1911
Wien Museum
A selection of 50 works on paper made between 1908 and 1918 by one of the most important figures, together with Klimt and Kokoschka, of the artistic panorama in Vienna at the beginning of the twentieth century.
The works selected for this exhibition show the depiction of the human body as a way to explore the soul.Egon Schiele (1890-1918) chose the human figure as one of the most important themes of his pictorial work.The body, often represented in defiant and sinuous poses, was his means to understanding the human condition.Schiele expressively captures the ephemeral and epidermic presence of the body and the vulnerability of flesh through the excessive gestures and contorted and tortuous lines of his drawings.The body evokes the spirit and the search for the essence of man, to which Schiele brings an emotional intensity so characteristic of his art.They are far from being mere depictions of the bodies and persons he sketches (self-portraits and portraits of family members, friends and members of Viennese society of the period: architects, musicians, writers, collectors and critics).Usually shown isolated and alone against empty, neutral backgrounds, Schiele starts from a universal concept to capture the drama of the human condition through the body.
40 works in the exhibition belong to the collection of the WienMuseum, and 10 are on loan from private collections.

BACK TO TOP