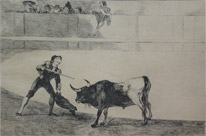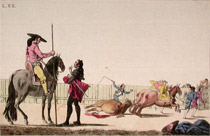 The present exhibition includes a total of 53 prints by two of the great masters of Spanish printmaking: Francisco de Goya y Lucientes (Fuendetodos 1746 – Bordeaux, 1828) and Antonio Carnicero (Salamanca, 1748 – Madrid, 1814). Both artists, within their respective time periods and in their distinct personal styles, decided late in their careers to publish a series of prints on what is perhaps the most quintessentially Spanish of themes: the bullfight.
Goya created his Tauromaquia series, comprised of 40 etchings, between 1814 and 1816. The images that open the series illustrate Nicolás Fernández de Moratín's text La Carta Histórica sobre el origen y progresos de las Fiestas de Toros en España (Historic Letter on the Origin and Evolution of Spain's "Fiestas de Toros"), originally published in 1777. In the remaining prints, Goya moved away from illustrating existing texts and looked instead to his own personal experience: memories of bullfighters whom he had known in his youth (Martincho, Juanito Apiñani, and La Pajuelera), the death of Pepe Illo or the different passes of the matadors, each recorded with his brilliant capacity for capturing movement.
Carnicero designed and printed the Colección de las principales suertes de una corrida de toros (Collection of the Principal Stages of a Bullfight) between 1787 and 1791. His 13-plate series follows the traditional sequence of a bullfight, from the bullfighters' first passes at the bull and the entrance of the picadors to the removal of the dead bull from the ring. This series, which predates Goya's by 25 years, was without a doubt a key reference for all subsequent artistic representations of the Tauromaquia – the art and tradition of bullfighting – including Goya's own.
Francisco de Goya y Lucientes (1746-1828)
La Tauromaquia, 1814-16
Etchings, burnished aquatint and drypoint on paper; 7th edition, 1937
15 x 22 inches
Fundación Juan March
Antonio Carnicero (1748-1814)
Collection of the Principal Stages of a Bullfight, 1787–91
Hand-colored etchings on laid paper
6.7 x 10.6 inches
Private collection

BACK TO TOP