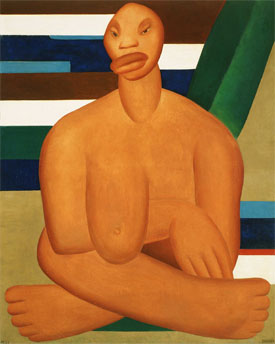 A Negra
, 1923
MAC USP Collection (Museu de Arte Contemporãnea da Universidade de São Paulo)

6 February to 3 May 2009
This exhibition is the first solo presentation and one of the most important to be held in Europe on the work of the Brazilian artist Tarsila do Amaral (Capivari, São Paolo, 1886 – São Paolo, 1973), a key figure in Brazilian painting and responsible for the introduction of the European avant-garde into that country. For Juan Manuel Bonet, curator of the exhibition, Tarsila do Amaral is: "one of the leading figures of a still little known avant-garde movement, but one whose principal innovations are among the most important South American contributions to modern culture." The exhibition has been devised and organised by the Fundación Juan March and is co-produced with the Fundación Caixa Galicia.
The exhibition focuses on the work of the artist's dazzling middle period in the 1920s, when she lived between São Paolo and Paris, with a symbolic conclusion in Moscow (to where she travelled in 1931). It emphasises her connections with the avant-garde in Paris, her training with painters such as André Lhote and Fernand Léger, and her friendship with some of the French avant-garde poets, in particular Blaise Cendrars.
The exhibition comprises 50 paintings and drawings, most of them loaned from Brazilian museums and private collections, with the exception of three works from the Musée de Grenoble, the Hermitage in St. Petersburg, and the Museo Nacional Centro de Arte Reina Sofía in Madrid. It also features an introductory room that sets the artist in her context and offers an overview of the Brazilian art scene in the 1920s with works by some of the most important figures in modern Brazilian art as well as documentary material.