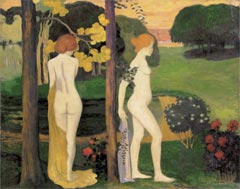 Aristide Maillol
:
Two Nudes
in a Landscape
, ca. 1895
The exhibition brings together 39 works (36 paintings and 3 sculptures), representative of 19th-century France, that focus on the human figure as depicted via different artistic tendencies that culminate in the modern era of the vanguard at the start of the 20th century.
The selection of works is centered on the representation of the human figure, realized in society portraits, nudes, and intimate and psychological portraits, in which the visitor can appreciate all the artistic tendencies of modern France, from neoclassicism and romanticism to realism, naturalism, impressionism, and, ultimately, the aesthetic rupture of fauvism and cubism. The aim is not to offer a synthesis of French art in the 19th century, but an opportunity of tracing the origins of the 20th-century vanguard in the masterpieces of the previous century.
Some of the 29 artists represented in this outstanding selection, in addition to Ingres and Toulouse-Lautrec, are: Delacroix, Manet, Courbet, Sisley, Rodin, Gauguin, Redon, Maillol, Puvis de Chavannes and Bonnard.