CASPAR DAVID FRIEDRICH

THE ART OF DRAWING
October 16, 2009 - January 10, 2010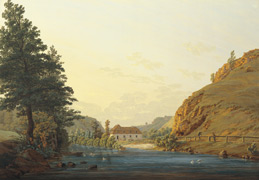 Caspar David Friedrich
The King's Mill in the Plauenscher Grund, Ca. 1802 at the earliest
Städtische Galerie, Dresden
Focused on the creative process of Caspar David Friedrich (1774-1840), this exhibition of works on paper by the most important landscape painter of German Romanticism seeks to reveal, for the first time – in addition to their exceptional beauty – the function of these drawings as compositional studies for his paintings. The exhibition, Caspar David Friedrich: The Art of Drawing includes more than 60 works on paper in diverse techniques (pencil, gouache and watercolor) and formats: from preliminary studies – en plein aire – to "final" works, grouped according to recurring themes in Friedrich's oeuvre: trees, landscapes, architecture and ruins, among others.
Lenders include the most important state museums of Germany and northern Europe, including the Germanisches Nationalmuseum, Nuremberg; Kunsthalle Bremen; Kunsthalle Karlsruhe; Staatliche Kunstsammlungen Dresden; Staatliche Museen zu Berlin-Preussischer Kulturbesitz, Berlin; National Museum of Architecture, Art and Design, Oslo; as well as a number of international private collectors whose works have rarely been exhibited to the public, until now.
The exhibition, which the Fundación Juan March began organizing in 2006, has relied on the guidance of Dr. Christina Grummt, acknowledged expert on Friedrich's works on paper and author of the catalogue raisonné on the subject (in preparation). The exhibition catalogue features essays by two major authorities on the artist: the professors Werner Busch and Helmut Börsch-Supa (the latter, author of the catalogue raisonné of Friedrich's paintings), as well as descriptive entries on all the works.