SIX APPROACHES TO WYNDHAM LEWIS
(Texts from the essays in the exhibition catalog)
The England's most important and most fertile modernist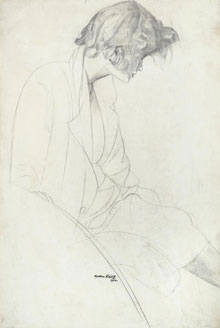 Girl Seated (Gladys Anne Hoskyns), 1922. Private collection.
Few artists since the Renaissance have conceived so comprehensively a series of roles for themselves: Lewis wished to be a master in the visual arts, a political, social and cultural analyst, a novelist, and a philosophical and aesthetic critic. He is England's most important and most fertile modernist, and his achievement in each of these fields is among the highest, though exactly how high in each field remains disputed. In the field of painting, his activities as the vital driving force in England's most significant avant-garde movement, Vorticism, have given him a secure place in the history of British art.
During a productive carrer of nearly 50 years, Lewis wrote, painted and participated in public controversy as if England were a full participant in the culture of mainland Europe, and this assumption made him look eccentric to the English; yet to a foreign eye he is likely to resemble no-one so much as his great English predecessor as painter and writer, William Blake. Like Blake he was an enemy of what was tame, acceptable and compromised, and like Blake a visionary master of line who rejected all that was cloudy and ill-defined.
Confronted by the sheer range of Lewis's oeuvre, a totality that apparently lacks a centre, the simplest strategy is simply to accept its variety and appreciate whatever fractions of the whole happen to please; it is one of the triumphs of this particular exhibition that enough has been gathered in one place for this to be possible, especially in the case of his visual work.
(Paul Edwards, in "´Creation Mith´: The Art and Writing of Wyndham Lewis").
An intellectual on the front line of the "avant-garde"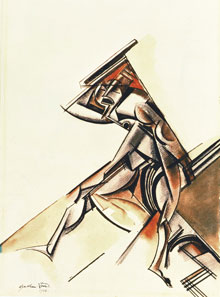 The Vorticist, 1912. Southampton City Art Gallery.
Wyndham Lewis's reputation as an author was obscured for a variety of reasons throughout his life as well as after it and he became one of the least acknowledged and most criticised figures within English-speaking modernism. Most of his works have been out of print for decades – with the exception of an impressive collection of scholarly editions reprinted by Black Sparrow Press in the 1980s and 1990s – while in a country such as Spain, with a long-established tradition of translations of modernist authors, Lewis was not published until 2005. The legend that he himself created through the persona of "the Enemy" accompanied him beyond the grave.
Lewis was an intellectual who was ill served by the uncertainties of his times, giving himself over to speculation on too many occasions in his works and often arriving at mistaken conclusions. In this desire to lead from the front – in the sense of the term "avant-garde" – Lewis located himself on the front line and was consequently hit by more than one bullet. He was rejected by publishing houses (including Chatto and Windus, who had previously published much of his work in an exceptionally fine manner), writers filed suits against him, literary circles closed their doors to him and Lewis, the "Enemy of the Stars", was shut out, exiled to another galaxy.
The importance of Lewis as an intellectual should not be measured by the number of criticisms that he has received in studies on Fascism, feminism and the war, but from the wealth of references to the contribution made by his work that are to be found in the writings of other prestigious authors. From Marshall McLuhan (1911–80) to Martin Amis (b. 1949), Lewis has left very few indifferent and all have been able to salvage some original aspect of his work to add to their own.
(Yolanda Morató, in "Wyndham Lewis, a Twentieth-century European Intellectual in Chiaroscuro")
Wyndham Lewis and Modern War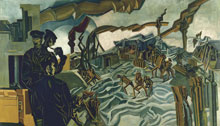 A Battery Shelled, 1919. Imperial War Museum, London.
War runs through Wyndham Lewis's oeuvre from start to finish and was a subject from which he could not distance himself, nor did he know how or wish to. This is simply because it functioned as the perfect mirror of the time in which he happened to live; a war that, just like modern war itself, was simply and fundamentally stupid
The Futurists had glorified war, which was the only way of cleaning up the planet, according to the famous and sinister slogan that is point 9 in the first Futurist Manifesto published by Filippo Tommaso Marinetti (1876–1944) in 1909. They understood it as a great spectacle that provided the world with the emotion, visual impact and intensity with which to crush bourgeois routine. ( ) Lewis, however, from an early date and before he had any first-hand experience of it, considered war to be the most telltale expression of the human desire to make stupidity its most highly-prized characteristic.
Like the great philosophers, in the matter of war Lewis does not teach us to come up with feeble, satisfactory answers (like those of a catechism), answers that are painkillers for a troubled conscience. Rather, he teaches us to ponder the questions that he asks until we are obliged to come face to face with the impossibility of being satisfied with any answer.
(Juan Bonilla, in "Wyndham Lewis and the Modern War")
Lewis and Politics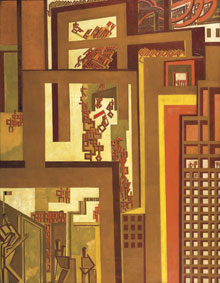 The Crowd, 1914-15. Tate, London 2010.
Lewis´s politics underwent a number of changes over time and cannot easily be pinned down. ( ) During his Vorticist phase, he was committed to an emancipatory utopian politics that viewed aesthetic renewal as the precursor of wider social change. A decade later, The Art of Being Ruled argued for an amalgamation of Communism and Fascism, a stance that derived from Lewis's desire to centralise political power and thus (so he hoped) to leave artists free to concentrate on their creative work.
In keeping with his belief that writers and artists should always be politically non-aligned, he insisted on the need for society to "strengthen the organization of what used to be called the "Republic of Letters"", which he saw as "the last precarious refuge of the civilized intelligence". ( )Lewis´s defence of a republic of letters with a vibrant role to play in the public sphere was in keeping with his view of the artist´s necessary autonomy, but it was also an admission that artists were powerless to intervene in or to mould political life.
(Andrzej Gasiorek, in "Wyndham Lewis and Politics")
A strange synthesis of British and World Art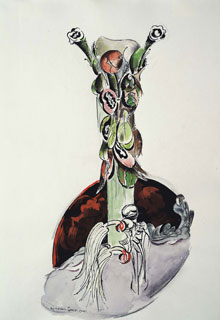 Small Crucifixion Series III, 1941. Collection Hugh Anson-Cartwright.
Hell, Purgatory, Spain, Peru, New York – these are just a few of the regions that Lewis inhabited imaginatively, travelling in time and seeking to turn the expectations and habits of his contemporaries on their heads. There is a sense of surface and hollowness in many of his forms that paradoxically is played off against a sense of great depth and richness, both of space and time. He stages his narratives with enormous and almost clairvoyant skill. Often one feels that Lewis is offering many more points of view and moments in time than is really possible.
Throughout his life, Lewis had engaged with British, European and "world-art", in search of a new tradition, with an astonishing intelligence, imagination and energy. He is still something of a skeleton in the cupboard, but continues to rattle vigorously and is constantly being resurrected, each time exhibiting more life than ever before.
(Richard Humphreys, in "´A Strange Synthesis´: Lewis, British Art and a World Tradition")
The sexualized Spain of Wyndham Lewis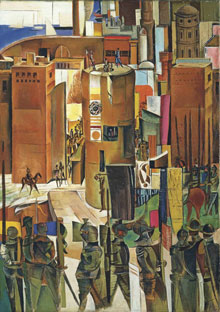 The Surrender of Barcelona, 1936-37. Tate, London 2010.
Lewis executed four drawings between 1912 and 1914 that are distinctively Spanish in content. Figure (Spanish Woman), of 1912; The Courtesan, also of 1912; Spanish Dance, of 1914, y Abstract Composition, ca. 1914. These works express the sexualised Spain that Lewis had experienced in 1903 and 1908.
The Spanish drawings show Lewis taking the route towards his greatest early success, Vorticism. The visual characteristics of this movement were stasis, tension and detachment. There is no Futurist flow in them, or lines of force; instead, Vorticist energy is internalised in the diagonals that actually constitute the image. ( )We can say that the wild and psychologically-disturbed Breton world is post-Futurist, while the sexualised Spanish drawings are post-Cubist and pre-Vorticist. The vital French image was superseded by the static Spanish image and it was the latter that led directly to Vorticism.
(Alan Munton, in "Wyndham Lewis and Spain: Anarchism, Cliché, Image")