WHYNDAM LEWIS: A BIOGRAPHY
1882-1908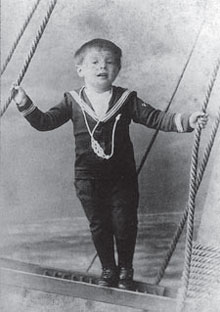 Wyndham Lewis in an Eastbourne photographic studio, aged about six. Division of Rare and Manuscript Collections, Cornell University Library, Ithaca, NY.
Percy Wyndham Lewis was born on 18 November, 1882, in Amherst, Nova Scotia, Canada, on board his father's boat. He spends his early years in Maryland and in the Isle of Wight, England. Following his parents' separation, Lewis and his mother settle in London in 1893. Between 1898 and 1901, when he was expelled, Lewis studies at Slade School of Fine Art, London. Becomes acquainted with a group of older artists and writers. He is introduced to the art of Gustave Flaubert by Thomas Sturge Moore, and Laurence Binyon initiates him into oriental art. In addition to non-European art, his work is influenced by painter and writer William Blake and the great eighteenth-century English caricaturists. Painter Augustus John becomes his teacher and mentor.
In 1902 he travels to Europe. Lives in Paris for four years, during which he goes on study trips to Holland, Germany and Spain. Visits Madrid with artist Spencer Gore; copies paintings by Goya at the Museo del Prado. In 1903 he discovers the bohemian life of Montparnasse, satirically depicted in his first novel Tarr (1918). He meets Ida Vendel ("Bertha" in Tarr) and begins a relationship that will last until 1907. After a second trip to Spain in 1908, in December he settles permanently in London.
1909-1918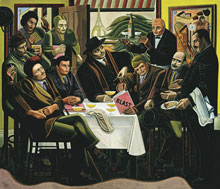 The Vorticists at the Restaurant de la Tour Eiffel, Spring 1915, 1961-62. Tate, London 2010.
In 1910 Lewis meets poet Ezra Pound at the Vienna Café on New Oxford Street; however, their friendship does not develop until 1913. In 1911 he becomes a Member of Camden Town Group, London, a group of artists who gather around Walter Sickert. Members of the group include Gore and Harold Gilman. The Group holds its first exhibition. Lucien Pissarro is repulsed by Lewis's paintings. Until 1922, his work features a deliberately provocative combination of grotesque and strange shapes, primitive and caricature-like figures, loud and bizarre acid colours, and an unusual narrative. Draws Cubist self-portraits and begins to experiment with Futurism.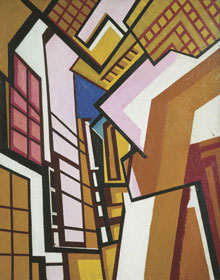 Workshop, 1915. Tate, London 2010.
Lewis exhibits Cubist paintings and illustrations to William Shakespeare's Timon of Athens at the Second Post-Impressionist Exhibition, organised by Roger Fry at the Grafton Galleries in London. Influenced by the philosophical theory of Henri Bergson, Lewis begins to reflect on the material (and imperfect) aspects of life. His paintings from these years (entitled Creation) represent the effusion of energy Bergson defined as the organising principle of inert and resistant material.
In 1913 he joins the Bloomsbury's Omega Workshops, under the direction of Fry. Walks out of the Workshop with Frederick Etchells, Edward Wadsworth and Cuthbert Hamilton. The following year, he establishes the Rebel Art Centre with Kate Lechmere, a workshop located at 38 Great Ormond Street, set up as an alternative to the Omega Workshops. It was, in Lewis's words, "the headquarters of the great vortex of London." Presents five works at the London Group Exhibition. On 20 June, 1914, John Lane publishes the magazine Blast. . Lewis is the editor and main contributor, and is also responsible for its impressive layout and typographic style. With Blast comes the "explosion" of Vorticism, an artistic avant-garde movement. Its name was coined by Pound, with whom Lewis intends to "build a visual language as abstract as music" and "dogmatically anti-real". Meets writer T.S. Elliot through Pound.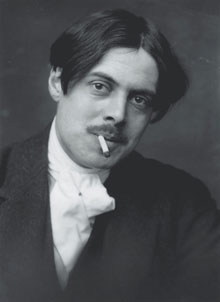 Wyndham Lewis as a Bohemian photographed by G. C. Beresford, 1913. National Portrait Gallery, London.
In June, the first Vorticist exhibition is held at the Doré Galleries. Publishes the second issue of Blast, the "War Number", in July. Lewis Lives at 18 Fitzroy Street, a house previously occupied by his artist friend Augustus John. It becomes a meeting place for the Vorticist group, formed by Wadsworth, Henri Gaudier-Brzeska and Pound, among others. The First World War puts an end to the group, the only avant-garde movement in Britain. In 1917 Lewis serves in the war for one year. Thanks to Pound, Lewis continues publishing during the war in The Little Review and The Egoist (where Tarr is serialised). In 1918 he returns to London and is appointed as an official war artist for the Canadian and British governments. Publishes Tarr, his semi-autobiographical modernist novel. It receives rave reviews from Pound, Eliot and Rebecca West.
1919-1928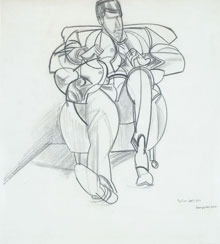 Ezra Pound, 1921. Private collection
Guns, his first solo exhibition, featuring war paintings and drawings. Paints A Battery Shelled, his masterpiece of war. Produces a great quantity of figurative and life drawings conveying a renewed classicism, a result of oriental influences and his virtuous and vigorous command of line. He writes The Caliph's Design: Architects! Where is Your Vortex?, urging the continuance of modernism in art and its spread to architecture and urbanism. In 1920 he forms Group X, a vain attempt to restore the avant-garde spirit felt prior to the war, as well as the momentum of Vorticism in opposition to Bloomsbury conservatism. However, this endeavour clashes with widespread conservative and traditional views. He meets writer James Joyce. He begins to develop a new type of abstraction, which is more synthetic, flexible and organic, closer to the European avant-garde. Solo exhibition Tyros and Portraits at The Leicester Galleries, London. Edits The Tyro, No. 1, an arts and literature review. Lewis invents the tyros, characters with mocking smiles intended to present a satirical portrait of post-war English society. He paints the self-portrait, Mr Wyndham Lewis as a Tyro, and also executes Portrait of the Artist as the Painter Raphael, in line with French classicist art and its return to order. Stays in Paris. Visits Joyce and they becomes friends and drinking partners.
In 1922 he publishes "Essay on the Objective of Plastic Art in our Time" in Tyro, No. 2. In the 1920s, Lewis begins his career as a portraitist. Thanks to his portraits, the public became familiar with several intellectuals from the inter-war period (T.S. Elliot, Edward Wadsworth, Virginia Woolf and Edwin Evans). It was a productive decade with regard to both his artistic and literary production. Continues to paint synthetic, abstract compositions. In 1925 he unsuccessfully submits The Man of the World, "the book of 500,000 words", to various publishers. Later publishes a revised and extended version in separate books. Lewis re-launches his career as a writer and devotes himself entirely to this task until 1931. For several years, he immerses himself in writing and the study of political theory, anthropology and philosophy, which drives him to a somewhat clandestine existence. In 1926 he publishes his first non-fiction book, The Art of Being Ruled, a work of political theory and analysis that attempts to distinguish sources of revolutionary change in society.
In 1927 he launches The Enemy, a new magazine largely written by him. In the first issue, he carries out a critique of the literary avant-garde (including Pound and Joyce) for the political and philosophical naivety of their work. He presents himself as "the enemy", a soldier fighting on his own for a much-needed revolution. In The Enemy, No. 2, he examines the cult of the "primitive" in the work of writers D.H. Lawrence and Sherwood Anderson.
1929-1938
In 1930 he publishes a limited and signed edition of The Apes of God. It is a satirical novel describing the London art world of the 1920s, including his patrons and so-called friends Sitwell and Schiff. Marries one of his models, Gladys Anne ("Froanna") Hoskyns, with whom he will spend the rest of his life. She becomes one of his main models and a source of inspiration for his literary characters.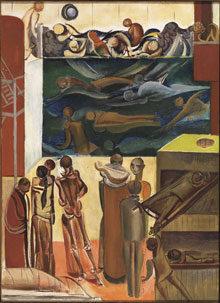 The Tank in the Clinic, 1937. Wyndham Lewis Memorial Trust, London.
In Hitler (1931) (articles written for Time and Tide upon his return from Berlin in 1930), Lewis states Hitler is a "man of peace" and defends certain aspects of Fascism against Communism. In spite of subsequent attempts to clarify these opinions, his reputation is permanently damaged. In 1932 Lewis resumes his artistic career, in particular oil painting. His compositions are increasingly metaphysical and enigmatic. They are inspired by literary, historical and mythological sources, which fascinated him.
Publishes the portfolio Thirty Personalities and a Self-Portrait and organises an exhibition under the same name at The Lefevre Galleries, London. Publishes Filibusters in Barbary, a travel book based on his experiences in Morocco, and The Doom of Youth, a study of "youth politics". Both are prohibited after libel action. Furthermore, the comic novel Snooty Baronet – a sharp satire of behaviourism – is banned by Smiths and Boots lending libraries.
Publishes Left Wings Over Europe (1936), an anti-war book, The Revenge for Love (1937), a tragic novel regarding the left wing's naive political commitments prior to the Spanish Civil War; Count Your Dead: They are Alive! (1937), an anti-war text on the Spanish Civil War, sympathetic to the Fascist side; and Blasting and Bombardiering (1937), his first autobiography. Paints The Armada and The Surrender of Barcelona.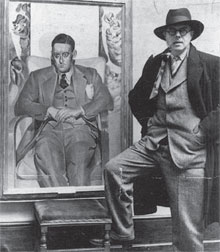 Wyndham Lewis with his rejected portrait of T.S. Eliot at the Royal Academy, London, 21 April 1938.
In 1937 he presents his first major solo exhibition since 1921, at The Leicester Galleries: exhibits portraits, drawings and paintings on metaphysical and historical themes. It is a critical success, but a commercial failure. Visits Berlin and Warsaw. Change of views regarding Nazism. In the special "Wyndham Lewis" issue of Twentieth Century Verse (edited by Julian Symons), he declares that he feels "much deceived in politicians". The following year he paints a large portrait of T.S. Eliot. On account of its rejection by the Royal Academy in London, he briefly returns to the headlines in art publications. The painting of Eliot belongs to an outstanding series of portraits produced between 1937 and 1939, among them stand out those of the "men of 1914" and of his wife Froanna (Ezra Pound, Froanna, Naomi Mitchinson, Stephen Spender, Julian Symons, Hedwig). These works, along with his portraits from the early 1920s and his portfolio of 1932, prove he was the greatest British portraitist of the twentieth century. Lewis donates a painting for auction in aid of republican Spain.
1939-1944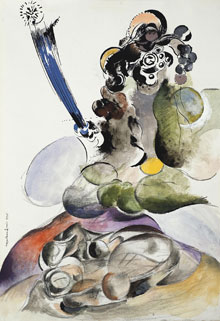 Jehovah the Thunderer, 1941. Collection Hugh Anson-Cartwright.
The Jews: Are they Human?, a fervent defence of the Jews, and The Hitler Cult, which attacks Nazism and predicts that the war will end in six years, are published in 1939. Wyndham Lewis the Artist (1939) brings together writings on art, including a new essay advocating the return to nature (though not to naturalism). In September, Lewis and Froanna leave for the United States and Canada in search of their roots; they stay for six years. They first live in New York, and in 1940 they move into Hotel Tudor, Shelbourne Street, in Toronto. The paintings and drawings from this period reflect their economic hardships, also described in the novel Self Condemned. Publishes America, I Presume (1940), an extraordinary satirical account of American society; and Anglosaxony: A League that Works (1941) and The Vulgar Streak (1941), a critique of the prejudices of English society. This year a tumour causes serious deterioration in Lewis's eyesight. In 1943 he meets Marshall McLuhan, whose ideas on global culture have a great impact on him.
1945-1957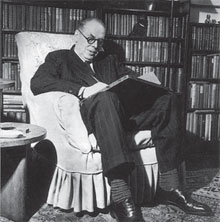 Lewis writing when blind. Division of Rare and Manuscript Collections, Cornell University Library, Ithaca, NY.
Lewis and Froanna return to London with financial assistance from Malcolm MacDonald, Politician and diplomat (High Commissioner to Canada during Second World War), and settle in Notting Hill, where Lewis lives until his death. He is employed as art critic for the weekly BBC programme, The Listener. Publishes America and Cosmic Man (1948), a study of American history and society as a model for international politics. In 1949 he works on a portrait of T.S. Eliot, his last oil painting before losing his sight. Retrospective exhibition at the Redfern Gallery, London.
In 1950 he publishes Rude Assignment, an autobiography. The following year he announces his blindness in "The Sea-Mists of the Winter", his final article as art critic for the The Listener. He then abandoned his career as a painter and drawer, but not as a writer. He wrote seven more books, such as The Writer and the Absolute (1952), containing essays on Jean Paul Sartre, André Malraux, Albert Camus and Orwell; and The Demon of Progress in the Arts (1954).
In 1956 Sir John Rothenstein organises the retrospective Wyndham Lewis and Vorticism at the Tate Gallery, a travelling exhibition touring several venues in the UK. A frail and blind Lewis, who had written the introduction to the catalogue, attends the opening. Lewis dies on 7 March, 1957, at the Westminster Hospital as a result of a brain tumour.
Excerpt from the chronology published in the exhibition catalogue.