OPENING HOURS AND GUIDED TOURS

OPENING HOURS
Monday – Saturday: 11 a.m. - 8 p.m.
Sunday and holidays: 10 a.m. – 2 p.m.

FREE GUIDED TOURS
Wednesdays: 11 a.m. – 1:30 p.m.
Fridays: 4:30 – 7 p.m.

SCHOOL VISITS
Mondays: 11 a.m. – 1:30 p.m.
The Fundación offers free guided tours for school groups (maximum of 25 students per group) reserved in advance by calling 91 435 42 40 (ext. 296).
THE CATALOGUE AND OTHER PUBLICATIONS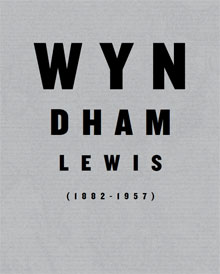 Catalogue cover
The accompanying catalogue is published in two editions (Spanish and English) and includes texts by the leading international experts in this field, such as Paul Edwards, author of the major monograph on Wyndham Lewis and the curator of the exhibition, and Richard Humphreys, a long-time curator at the Tate Gallery. In addition, there are other texts that relate Lewis to the avant-garde, to war, politics, the intellectual world of his day and even to Spain. These texts have been written by Yolanda Morató, Manuel Fontán del Junco, Andrej Gasiorek, Juan Bonilla and Alan Munton. The catalogue includes reproductions and detailed descriptions of all the works on display, in addition to a chronology of the artist, bibliography, list of individual and group exhibitions in which he was involved, and a comprehensive selection of texts by and about Lewis, translated by Yolanda Morató, author of one of the catalogue essays and translator of a number of Lewis's literary works into Spanish.
The Fundación Juan March is also publishing a facsimile edition of the journal
Blast
, whose first edition included texts by numerous contemporary writers and friends of Lewis, including Ezra Pound, Ford Madox Ford and Rebecca West. This exhibition project is completed with the publication of Shakespeare´s play
Timon of Athens
with the illustrations that Lewis prepared for an unpublished English edition of 1912. Lewis's original drawings, which are on display in the present exhibition, have been included in this Spanish version of Shakespeare's text (by Professor Ángel Luis Pujante), and are now to be seen as Lewis originally intended.