OPENING HOURS AND GUIDED TOURS

OPENING HOURS
Monday – Saturday: 11 a.m. - 8 p.m.
Sunday and holidays: 10 a.m. – 2 p.m.

FREE GUIDED TOURS
Wednesdays: 11 a.m. – 1:30 p.m.
Fridays: 4:30 – 7 p.m.

SCHOOL VISITS
Mondays: 11 a.m. – 1:30 p.m.
The Fundación offers free guided tours for school groups (maximum of 25 students per group) reserved in advance by calling 91 435 42 40 (ext. 296).
BILINGUAL EDITION OF TIMON OF ATHENS BY SHAKESPEARE, ILLUSTRATED BY LEWIS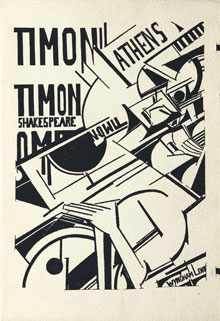 Portfolio Timon of Athens: Design for Front Cover, 1913. Of Shakespeare. The Windham Lewis Memorial Trust. G. and V. Lane Collection, London.
The Fundación Juan March has published Timon of Athens, the tragedy written by William Shakpeare in collaboration with Thomas Middleton. It features a series of drawings executed by Wyndham Lewis in 1914 for an ultimately unpublished English edition. Lewis's original drawings, which are on display in the present exhibition, have been included in this Spanish edition of the text, translated by Ángel-Luis Pujante and Salvador Oliva.
Timon of Athens was written around 1605 by Shakespeare and Middleton, and can be described as a mixture of satirical tragedy and tragic parable. With regard to its subject and date of creation it is comparable to King Lear and Coriolanus. The play offers a portrait of the misanthropy that is the consequence of ignoble conduct, as well as of the shifting fortunes that lead from wealth to poverty. Throughout his life Lewis was a notably marginal figure, financially hard pressed and with a famously bad temper, which he himself called "the Enemy". In his life and ultimate fate, Timon is almost a living portrait of Lewis and of his unequal fortunes in both art and life.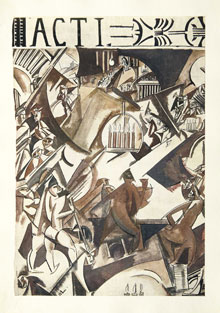 Wyndham Lewis was extremely familiar with the work of Shakespeare, making him the subject of one of his earliest books. Around 1912 a little-known publishing house suggested that he illustrate a new edition of Timon of Athens. The challenge must have appealed to him and he set to work immediately. However, the project did not turn out as Lewis expected: he handed in his 16 drawings and in 1913 The Cube Press printed and marketed a portfolio with reproductions of the drawings but without Shakespeare´s text.
This edition, published to complement the present exhibition, is intended to fulfil Lewis's intention of seeing his lively drawings accompany an edition of the play. The drawings are clear forerunners of Vorticism, the avant-garde movement that Lewis created and which would soon burst onto the pre-war London scene. This bilingual edition of the play published by the Fundación Juan March is the second edition to fulfil Lewis's original aim, as an earlier edition was published in English in 2003
(Timon of Athens, William Shakespeare and Images by Wyndham Lewis, LaNana Creek Press, Texas, USA)
. The present edition uses the previously unpublished translation of the play into Spanish by Ángel-Luis Pujante and Salvador Oliva. It is published here for the first time courtesy of the publishers Espasa Libros, who have made it available for this edition and who will be including it this autumn in their volume
Tragedias de William Shakespeare
.