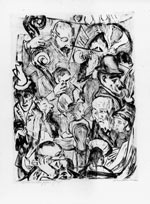 Cafémusik, 1918
The exhibition comprises a group of 55 works (53 prints and two oil paintings) loaned from the Von der Heydt-Museum, Wuppertal, Germany. They date from between 1914 and 1946 and are the work of Max Beckmann (Leipzig, 1884 - New York, 1950), one of the leading German artists of the 20th century. Beckmann was a lone creative figure who developed a completely unique figurative and expressionist style.
Together with his fellow-German artist Ernst Ludwig Kirchner, Beckmann revived the tradition of graphic art introduced by Dürer in the Renaissance. In fact, until 1923, graphic work was Beckmann's prime focus of attention within his oeuvre. As the present exhibition reveals, his most important prints were created within the context of series such as Faces (1915), Night in the City (1920), The Fair (1921) and Berlin Journey (1921). This period was followed by a break in his graphic output which continued until the creation of the portfolio Day and Dream (1946).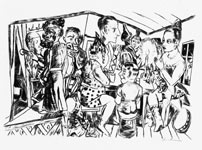 Hinter den Kulissen, 1921
Beckmann's prints can be interpreted as a social critique focused on life in the great metropolis: its characters, locations, streets, views, etc. In addition, the artist produced numerous self-portraits in which he continually studied himself in the manner of a scientific experiment.
The prints in the exhibition are complemented by two works in oil, which have been included to reveal the artist's parallel development in the field of painting.

BACK TO TOP