A retrospective exhibition featuring 57 works created between 1964 and 2003 by Luis Gordillo (born Seville, 1934). Gordillo is considered one of the most influential and innovative contemporary Spanish painters. Focusing primarily on the theme of duplicity, the exhibition reflects the key elements within two apparently contradictory traditions: informalism, with its expressionist and gestural nature, and the figurative, commercial and popular tradition of Pop Art.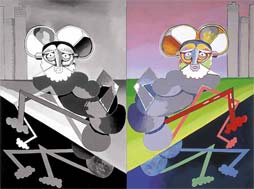 Gran veloz iscariote dúplex, 1973-74
The exhibition looks at how Gordillo works in series, an approach he has developed over the entire course of his career, and in which drawing, painting and photography come together in the use of various recurring iconographic motifs: heads, containers or drums, drivers, pedestrians and animals.
In an attempt to rationalise the emotional element of his work, but also as a way of incorporating the technique into its production, Gordillo uses the device of duplicating images through mechanical reproductive techniques such as photocopy, screen-printing, photographic collage and the digital image. These he subsequently transfers to the pictorial realm, to which he has remained consistently loyal.
The works on show cover various techniques: oil and acrylic on canvas, pencil and mixed method on paper and board, screen-print, collage, photo-collage, photomontage on wood, Ilfochrome and digital techniques. They have been loaned from the artist's own collection, as well as from other private collections and public institutions.