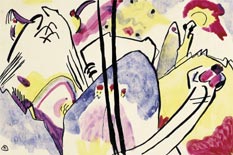 Estudio para 'Composición IV', 1911
A selection of 39 works by Wassily Kandinsky (Moscow, 1866 - Neuilly-sur-Seine, France, 1944) dating from between 1910 and 1914. During this period Kandinsky, the creator of abstract art, experimented with ways to give colour its own existence independent of form, to the point where the object was no longer necessary.
The artist produced his first abstract watercolour in 1910, marking the start of the history of non-figurative painting. Kandinsky's intention was to convey to the spectator a spiritual focus in art, which he himself described as the "principle of interior necessity", i.e. the need to search for the spiritual in art.
An outstanding art theoretician, Kandinsky expressed his aesthetic ideas through a variety of works. The present exhibition features the illustrations and the front cover which he created for his book On the Spiritual in Art (written in 1910 and published in 1911), as well as designs for the cover of the Blue Rider almanac (published in 1912). Also included in the exhibition are various studies for Composition VII of 1913.
All the works in the exhibition have been loaned by the Städtisches Galerie im Lenbachhaus in Munich, which has the finest collection of works by Kandinsky from his Munich period. The Museum's director, Helmut Friedel, has written the text of the accompanying catalogue.