The exhibition comprises 65 works on paper created between 1973 and 1997 by Roy Lichtenstein (New York, 1923-1997). In 1983, the Fundación dedicated a retrospective – the first in Spain – to this painter, graphic artist and sculptor, who figures among the major exponents of American Pop Art.
The exhibition –organised in collaboration with de Roy Lichtenstein Foundation, New York- seeks to reveal Lichtenstein's creative process and artistic evolution during the 1970s, '80s, and '90s, and how theme, concept and composition already appear defined in his early sketches and preliminary drawings, which he later transfers to his collages, genuine proponents of the finished work. The exhibition, for the first time, reveals his initial ideas, which can be traced in his small sketches, drawings and original sketchbooks.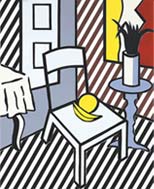 Collage for Hologram Interior, 1996
© Estate of Roy Lichtenstein / VEGAP, 2005
These works offer interior and exterior scenes that reveal their cultural sources: popular figures from the world of the comic book like Dagwood, Tintin, and Donald Duck; artistic icons like the Hellenistic Laocoon, Van Gogh's landscapes, Picasso's bathers, and Monet's waterlilies, to which the artist pays particular homage; and distinct themes taken from art history such as the landscapes of Chinese painting, still lifes or studio models. They are themes that, in his representations of interiors, also allude to the artist's interior realm and, in the exteriors, refer to a public domain. His works propose a dialogue and forge a very interesting path towards the socialization of art, offering new readings of the plastic arts.

Back to Top