JUNE 4 - SEPTEMBER 4, 2004
Museu d'Art Espanyol Contemporani, Palma
(Fundación Juan March)
Sant Miquel, 11. Palma de Mallorca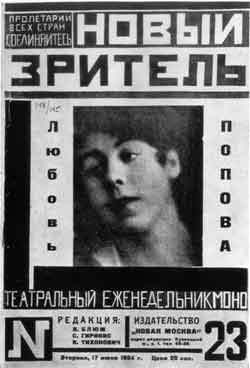 Visiting hours:
Monday-Friday: 10 a.m. - 6:30 p.m.
Saturday: 10:30 a.m. - 2 p.m.
Sunday/Holiday: Closed.
Exhibition devoted to the Russian painter Liubov Popova (1889-1924), considered— along with Malevich, Tatlin, and Rodchenko—one of the four most important artists of the Russian vanguard of the first quarter of the twentieth century. On view are 25 works created by the Russian artist between 1910 and 1922, all but two from the collection of the State Tretyakov Gallery in Moscow, with the others from a private collection courtesy of the Barbié Gallery, Barcelona.
Popova, one of the most committed and influential artists of the Russian vanguard and faithful defender of the artistic and social revolution, was for most of her short but intense life interested in classical western art, especially that of the Italian Renaissance; ancient Russian art, in particular icon paintings; Cubism, during her stay in Paris; and Futurism. Under the Constructivist influence of Malevich and Tatlin, she adopted the principles of the Russian vanguard in her search for a new pictorial language.
In 1985, the Fundación Juan March displayed in its Madrid headquarters works by Popova in the exhibition "Russian Vanguard (1910-1930), Museum and Collection Ludwig." The Foundation has also organized other exhibitions featuring the work of Russian artists: Kandinsky (1978 and 2003), Chagall (1977 and 1999), Jawlensky (1992), Malevich (1993), Rodchenko (2001, at the Museo de Palma and Museo de Cuenca), and Tatlin and others in the collective "A Half-Century of Sculpture" (1981).